Best Podcast Equipment for Any Budget
An ultimate list of the best podcast setup for beginners and professional creators.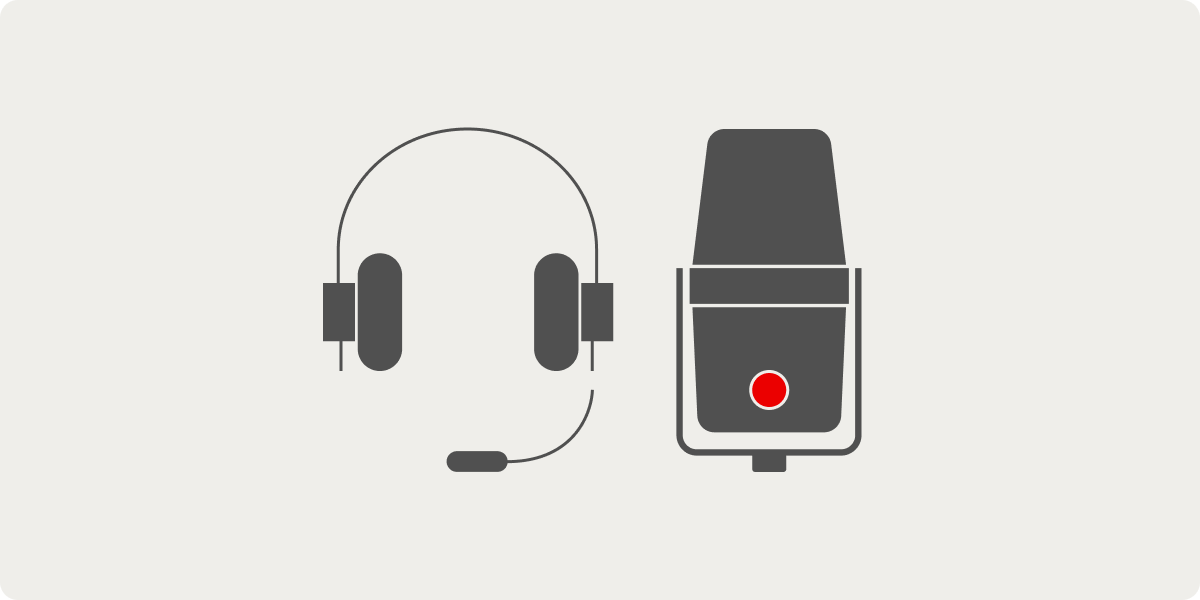 Unlike a video, when the viewers' attention is drawn to the image, a podcast listeners focus on the speaker's voice, which makes the sound quality of great importance. To reach this quality, a podcast host needs a certain setup for recording, editing, and post-production. It might be challenging to choose the best one from all the variety of options, so catch this guide with the podcast equipment, both essential and advanced, that you'll need to record a high-quality sound.
Things to consider when choosing your best podcast equipment
Before unveiling the podcast setup perfect for your needs, let's answer a few questions first — your ideal podcast bundle will vary depending on that.
How serious are you about podcasting?
If you're just a hobbyist with no plans to earn money podcasting or interviewing celebrities, you won't need expensive professional equipment. So, before buying any gear for your show, it's vital to evaluate your intentions. Why do you start podcasting in the first place? Is it just a hobby, or do you consider it a full-time activity?
If podcasting is something you're not going to take seriously from the start, it makes sense to choose cheaper options. However, if podcasting is a business you want to monetise and promote, the investments should be much more significant.
Which podcast format are you planning?
There's more than one podcast format, depending on which the setup will differ. From single-host podcasts to shows with multiple interviewers and guests, not only does the price of the equipment increase, the amount of pieces in the setup grow as well. If you intend to start a video podcast, in addition to the audio podcasting essentials, you'll also need a camera and lighting.
Note that this piece tackles audio podcast equipment only. We'll talk about video podcasting soon, so make sure you follow our updates on Reddit, Facebook, or Twitter.
What's your budget?
Another crucial question you should answer before jumping on the bandwagon concerns your budget or how much you're ready to spend on the podcast setup, for it'll simply influence which gear you can and will buy for your bundle.
Small budgets limit your choices. However, if you don't have much money available for podcasting, it's completely fine, especially if you're just starting. There's a plethora of affordable tools that'll make your podcast sound great. Plenty of aspiring podcasters start with nothing more than a laptop and a microphone in their kit.
Where will you record your podcast?
The place where you're going to record your podcast will as well determine the equipment needed for it. Recording in a quiet studio with sound absorption or even a furnished flat is different from recording in a noisy office. Another thing to consider is whether you're going to record the show remotely with your guests and interviewees in different locations or if you'll meet your guests right where you're recording. This will influence the choice of your microphone as well as recording and post-production software.
💡Learn how to record an audio-only or a video podcast remotely with no risk of losing sound quality.
How tech-savvy are you?
What else you should assess before buying any podcast equipment is your comfort when working with technology. If you aren't tech-savvy, you'd better opt for a setup that is good for beginners and easy to use. If you're okay with mastering new technology and software, feel free to choose more advanced options.
Podcast equipment starter pack
Typically, a minimum podcast setup consists of these things:
Computer
Microphone
Headphones
Recording and editing software
You can supplement this list depending on the podcast's format and the place where you're recording with these extras: a pop filter, lighting, an audio interface, camera, a mic arm or a shock mount, and acoustic treatment.
Best podcast equipment essentials‍
Let's go over some tools and setups you might need at different stages of podcast creation: from entry-level stuff to advanced gear for post-production.
Computers
When working on your show, a desktop computer or a laptop will act as a digital audio workstation (DAW) with editing and recording software to make your show sound clearer and more professional.
You can use a computer you already have and know how to use. However, note that at some point, you might need more advanced software like Logic Pro or GarageBand (which works on Apple devices only) to produce your podcast, and your PC or Mac should be new and powerful enough to let this software run smoothly.
Things you should keep in mind when purchasing a new computer as your DAW:
Memory space
Processor
Types of USB ports
As an entry-level solution, 8GB of RAM, some built-in SSD, and a triple-core processor will do. If you don't want to choose the computers on your own, you can trust our advice:
Acer Aspire 5 laptop
This is an accessible laptop for beginners. Its specifications are a 15.6" Full HD display, 4GB DDR4 on-board memory, 128GB NVMe solid-state drive storage, and multiple ports for various accessories: USB 3.2 Type-C, 2 USB 3.2 Gen 1 (1 Power-off Charging), USB 2.0, HDMI 2.0 with HDCP support, headphone speaker line-out jack, Ethernet (RJ-45), DC-in for AC adapter.
HP Pavilion All-in-One
This is a little more pricey option suitable for beginners. 16GB RAM, 256GB of SSD storage, a 6-core processor, and a variety of ports from multiple USB ports, HDMI, and an SD card reader.
Apple MacBook Pro M1
This is the most expensive laptop on this list, but perfect for beginners and seasoned podcasters alike. What's great about the Apple Macbooks for podcasting is that they have up to 20-hour battery life, large SSD storage, a fast processor to deliver quick performance, FaceTime HD camera with advanced image signal processor for clearer, sharper video calls and 3 USB Type-C ports.
Microphones
A microphone is a must-have tool for any host that no podcast show can be produced without. Your microphone directly influences your podcast sound quality, which, in turn, affects listenership and retention.
Before choosing the right podcast microphone, let's briefly walk through some terms. You should know two types of mics: condenser and dynamic. What's the difference between them?
Generally speaking, the sound produced by condenser mics is of higher quality. However, their drawback is that they're more sensitive to high frequencies than dynamic ones, as they capture every noise, so if you're just a beginner without a quiet studio, you'd better opt for the condenser mic. What's more, dynamic mics aren't that pricey; they don't need external power. They are less sensitive, which means you can use them to produce a podcast show in a noisy environment. So if you prefer a more sensitive mic with a higher-quality sound, choose the condenser mic. If you're a beginner who just starts podcasting and needs a cheaper option for recording in a noisy environment, choose a dynamic microphone.
When it comes to picking sound, cardioid mics are perfect for podcasting since they catch sound from the front.
Another facet you want to consider when choosing a podcast microphone is the mic's connection cables. The USB microphones are easier and more convenient for beginners as they connect directly to your computers through a USB input. Another way to connect to your setup is XLR, which means a mic that has a 3-prong connection is connected to a mixer (we'll talk about them below) and the computer. XLR microphones are more suitable for professional podcast bundles.
Here are some of the best podcast microphone options:
Pyle PDMICR42SL Classic Retro Microphone
A cheap yet elegant option with a cardioid heart shape pickup pattern that is most sensitive in the front and rejects sound from other directions making it perfect for studio recording. A built-in pop filter reduces popping sounds. The mic has an XLR connector and comes with a tripod stand.
Audio Technica ART2100x
A dynamic microphone which isn't that expensive; however, is perfect for aspiring podcast hosts. Durable metal construction for long-lasting performance with smooth, extended frequency response is perfect for podcasting, home studio recording, field recording, and voiceover. Cardioid polar pattern reduces pickup of unwanted sounds from the sides and rear, improving isolation of desired sound source. The model provides good sound in noisy conditions, XLR or USB cable connection, and great sound and voice quality.
MXL 990 Condenser Microphone
With this mic, both digital and analogue recordings will have a professional sound. This XLR connecting microphone comes with a custom shock mount, mic stand adapter and a carrying case as a bonus.
Blue Yeti USB Mic
This affordable USB mic produces clear, powerful, broadcast-quality sound for YouTube, game streaming, podcasting, and calls. Flexible cardioid, omni, bidirectional, and stereo pickup patterns allow you to record in ways that would normally require multiple mics. Onboard audio controls with headphone volume, pattern selection, instant mute, and mic gain allow you to control every level of the recording and streaming process. Available in multiple colours.  
Shure MV7
However pricey, this mic is ideal for entry-level and seasoned podcasters who are into analogue and digital recordings. This mic has a USB as well as an XLR output and built-in functionality that allows you to cancel unwanted background noise when recording. An intuitive touch panel for control over gain, monitoring volume, headphone mix, and mic muting are other great add-ons to name. The built-in headphone output allows for direct headphone monitoring while recording.
Podcast recording software
Podcast recording software deserves a special spot on this list. The right software can take your podcast to the next level so that people will want to get back to your show over and over.
In podcasting, not only the content that converts but the sound and speech quality as well. An adequately chosen program can make your recording sound as though it's been made in a professional studio with high-grade equipment. Unlike other items on this list, the software can cost you nothing, as there's a multitude of free solutions. Let's find out which of them to choose.
Waveroom
Waveroom is a web-based solution perfect for beginners and professional podcasters alike. Waveroom is a virtual recording studio that enables you to have remote video and audio calls, record interviews and podcasts in high quality, regardless of your internet connection. All podcasts are recorded locally, which ensures you and your guests get audio files of outstanding quality.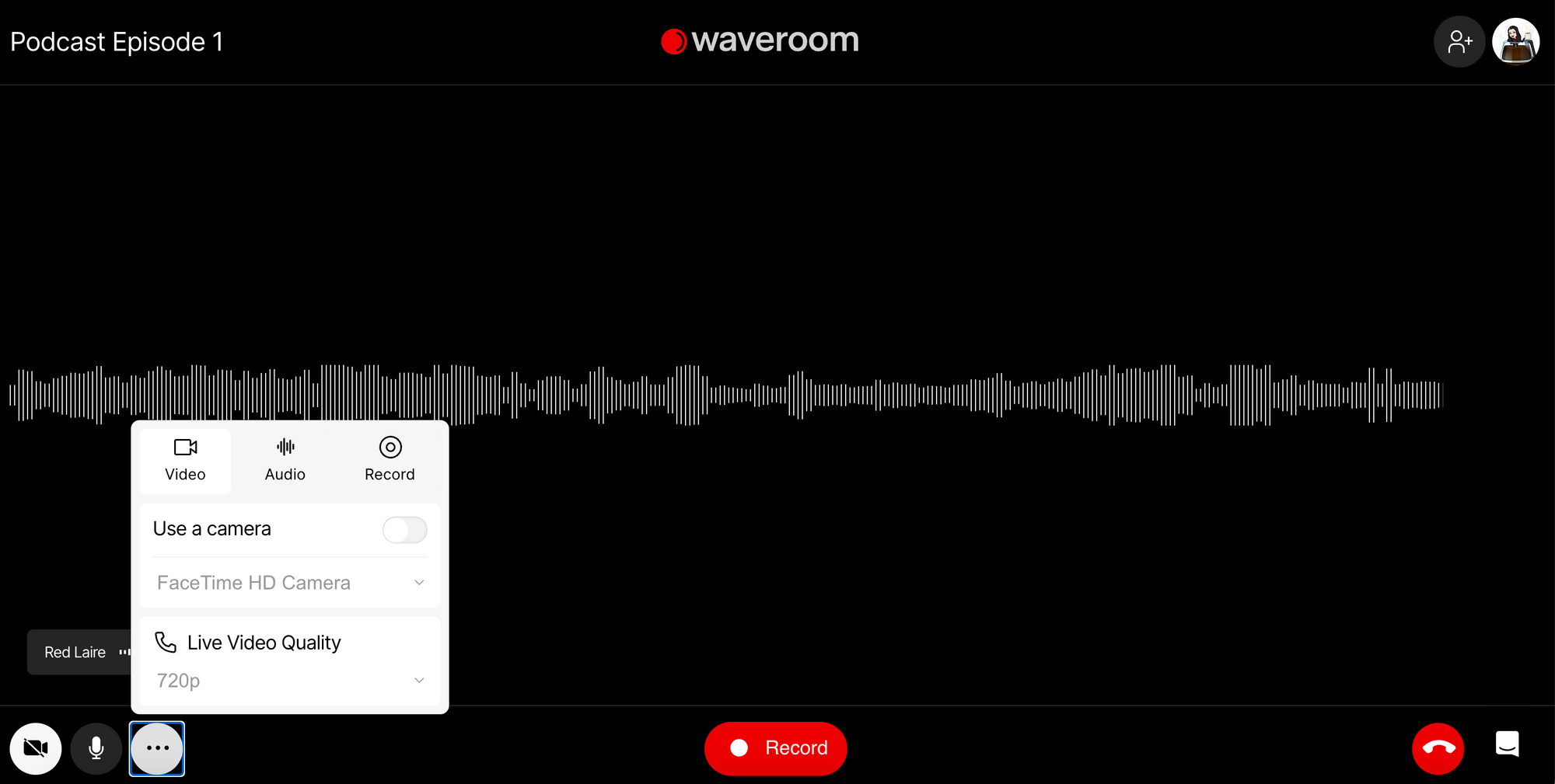 Waveroom is so far available as a web-based solution for Chrome, so you and your guests don't need to download and install any software on your computer. Among other great features are the ability to have high-quality video and audio-only podcasts, invite up to five guests to the podcast, and manage your recordings in an individual workspace with rooms where you can navigate between your guests and previous calls easily. The solution is currently free to use.
LALAL.AI
This tool is perfect for post-production when you need to clean your recordings from unwanted sounds and background noises. Its solution, Voice Cleaner, does exactly what its name implies: cancels unwanted noise to enhance your speech in the podcast. All you need to do is to upload your recording and choose the Voice and Noise stem from the list. You'll get an output file with your clean voice recording that you can use elsewhere and edit further if need be.
The limited functionality can be used for free with the ability to upgrade starting with $15 as a one-time fee.
GarageBand
This is an ideal solution for editing and post-production that allows you to record multiple tracks at a time, add music and sound effects, mix your tracks, and a lot more. Even if the software has been initially made for musicians and music production, it works pretty well for podcasters.
Adobe Audition
This software is stuffed with features of all sorts, which makes it simultaneously advanced yet tricky to master. Editing, post-production, and more stuff are better suited for tech-savvy creators with powerful computers.
Headphones
Another piece of podcast equipment no podcast can be made without. Headphones allow you to monitor and adjust the sound quality as you record, as well as use them to spot everything when editing your show. Here are our recommendations for podcasting headphones for any budget.
Audio-Technica ATH-M30x
Excellent price-to-quality ratio and a great option for aspiring podcasters.
Shure SRH440
Another cheap option compatible with a plethora of professional devices for podcasters and audio makers as it's optimised for home and studio recording.
Sennheiser Momentum 3.0
Noise-blocking functionality, wired and Bluetooth options, and long battery life are what these headphones have to offer. Active noise cancellation and transparent hearing Momentum 3 wireless adapt to your environment wherever you're recording. As a cherry on top, the headphones are comfortable to wear during long listening sessions.
Sony MDR1AM2/B
These headphones are definitely an upgrade to your podcast equipment as they allow you to hear sounds across the entire spectrum that you can't hear when using headphones of a lower class.
Audio interface
An audio interface is a mediator between your podcast equipment and your computer. It can convert your recordings into a digital format so your desktop or laptop can read them. An audio interface is essential if you use an XLR microphone or record with many guests to create several individual tracks. If you use a USB mic, it's not necessary to use an audio interface; however, it may streamline your work.
Midiplus Smartface II Audio Interface
This audio interface is compatible with all common operating systems and allows aspiring podcasters to use all the basic functionality an audio interface typically possesses.
MOTU 8pre USB
This one is a lot more pricey and perfect for those who want to upgrade their podcast equipment. This audio interface offers 16 inputs with 8 mic preamps and 12 outputs, including separate phone and main outs for all the basic input/output you need.
MAONO MaonoCaster Lite
This is an all-in-one podcast production studio with a microphone for podcast recording that can work as an audio interface and mixing station. Eight built-in special audio effects, such as applause, cheering, and laughter in addition to various adjustments are available for your creation. The solution comes as a package with a mic, mic cable, mic tripod, a windscreen muff, an audio interface mixer, a charging cable, and a TRRS audio cable.
Focusrite Scarlett 2i2 3rd Gen USB Audio Interface
This is an audio interface for high-fidelity podcast recording. Fine preamps and a switchable air mode will add extra clarity to your acoustic speech when recording. Professional podcast sounding can be achieved due to the high-performance converters that let you mix and record at up to 24-bit/192kHz.
Acoustic treatments
Acoustic treatment streamlines your post-production process and spares you hours of noise cancellation and unwanted sound reduction. Some acoustic treatment can even be found in your house, but you need to know about professional solutions, regardless. Things like carpets, rugs, closets, and furniture are all ways to remove ambient noise.
If you're just beginning your podcasting journey, you can use your clothes and blankets as an acoustic treatment: simply find a quiet, small room, put more clothes, carpets, and blankets in there, close the door, and start recording.
Consider the options below if you want a professional setup to equip your podcasting studio.
The Foam Factory
The Foam Factory has everything you need to set up your studio and home-made recording environment. Pricing depends on the type of acoustic foam.
Auralex DeskMAX Kit
A pricier option, but their portable and lightweight panels will help you conveniently do the sound absorption job. Equally appropriate in the studio, classroom, or home office, the DeskMAX can be used anywhere.
Mixers
Mixers aren't typically part of a basic podcast setup, especially for aspiring creators. However, if you intend to invite several guests or hosts to your show, you might want a mixer to record different audio types. The main thing to pay attention to when choosing a mixer is the number of channels it can accept, whether the preamps are included and how it's compatible with your current podcast equipment.
Besides, if you're using an XLR mic, a mixer is an essential setup part. A mixer broadens your podcasting opportunities by allowing you to record live podcasts with AUX features in one go with minimum to none post-production
Allen & Heath ZEDi-10
With four USB inputs and outputs, Allen and Heath is a great mixer if you primarily use USB equipment. This model allows you to reduce low-frequency noise from your recordings, GS-Pre XLR microphone preamps provide exceptionally low noise, massive headroom and plenty of clean gain for a full, warm sound that brings the best out of any microphone.
Rode RODECaster Pro
This model was made specifically for podcasters, so it has excellent functionality. Integrated podcast production studio with 4 mic preamps, 8 programmable pads, USB, and 8 faders are additional features worth mentioning.
Mackie ProFXv2 Series
Multiple mixer models with up to 30 channels, multiple microphone inputs, and AUX sends. This series is well-suited for live recordings. Starts at $799.
Pop filters
Pop filters are not necessary, yet a recommended part of a podcast setup. Pop filters make your voice sound smoother and reduce or entirely eliminate plosive sounds from your speech. Pop filters are basically a foam or mesh screen that you put in front of your mic. Some microphones have built-in pop filters, but if yours doesn't have one, we advise you to acquire it, especially if it doesn't cost you the odds.
PEMOTech Pop Filter
An affordable and easy-to-use option that is suitable for the majority of popular mics. Foam layers, in addition to metal ones, provide a vocal recording of high quality.
Neewer Professional Microphone Pop Filter
This is a dual-layer pop filter: the first screen blocks air blasts as any pop filter normally would, and the gap in between then disperses any remaining air pressure, so by the time it passes the second screen, the blast is easily contained to produce excellent quality recordings.
PodMic Pop Filter Foam Cover
This is a professional windscreen that eliminates ugly plosives from your speech and makes your voice sound better. Microphone screen porous foam makes it more transparent to muffle higher frequencies of pop noise. The pop filter blocks out plosives, pop, breath and wind noise, as well as improves the overall audio quality with noise cancellation and background noise removal.
Microphone stands, arms & shock mounts
Mic stands and arms hold your microphone during the recording process. In addition to making your recording more comfortable, it also invests in the sound quality by preventing extra sounds from infiltrating into the recording and changing the volume levels when you move the mic.
For your podcast equipment, we're suggesting these models below.
TONOR Studio Suspension Scissor Boom Arm
This is an affordable mic arm that is easy to adjust. The model comes with adapters that work with a plethora of mic models and shock mounts.
Gator Frameworks Deluxe Desk-Mounted Broadcast Microphone Boom Stand
This microphone stand can adjust 360 degrees with minimum to no noise when moving and is suitable for desks and tables of all sizes.
Moukey Microphone Boom Arm
An easily adjustable option to set the position and angle of your microphone. It has a U-shaped pop filter that improves the sound quality of your mic, whether wired or wireless.
LyxPro MKS1-B Condenser Spider Microphone Shockmount
This shock mount is a perfect model for condenser microphones. It has a built-in anti-vibration and isolation functionality to prevent the recording from unwanted sounds. The shock mount isolates mic from physical vibration, floor, and stand noise.
Rycote 44901 Invision USM
This shock mount works with all mic types. Just like the model from above, it allows you to reduce unwanted noise when recording. The shock mount supports any microphone with a diameter of 18-55mm.
Podcast hosting & distribution
You wouldn't be reading this guide right now if you didn't want to attract listeners to your show. This is what podcast hosting and distribution do: help you find your listeners, fans, subscribers and, to this extent, monetise your podcast. Podcast hosting means distributing your content on podcast directories, such as Spotify, Apple Podcasts, Google Podcasts, Stitcher, and others.
Some podcast hosts to name are Anchor, Zencastr, and Buzzsprout. These services are free, with the ability to upgrade to unlock more features.
Best podcast equipment packages by a use case
If you're still unsure which equipment to choose, we've come up with these packages that contain podcast equipment depending on your budget and experience level.
Enthusiast
For creators who just want to start podcasting and who are on a budget, we recommend these cheap and easy-to-use tools to include in their podcast setup:
Pyle PDMICR42SL Classic Retro Microphone with a built-in pop filter and a stand
Waveroom
LALAL.AI web and desktop app
Audio-Technica ATH-M30x headphones
Professional
If you want your podcasts to sound professional right from the start or need to upgrade your current podcast equipment, consider these options:
Blue Yeti USB Mic
Waveroom
LALAL.AI
Adobe Audition
Sennheiser Momentum 3.0 headphones
Midiplus Smartface II Audio Interface
Foam factory acoustic treatment
Allen & Heath ZEDi-10 mixer
PEMOTech Pop Filter
Production Team
If you take podcasting so seriously that you hired an entire production team and are ready to shell out, this is the setup you may take into account:
Adobe Audition
Multiple mics
Mackie ProFXv2 mixer
MAONO MaonoCaster Lite audio interface
Choose your best podcast setup considering your purpose, needs, technology level, and budget.
---
Follow Waveroom on Twitter, Facebook and Reddit to always be in the loop with all our updates.