10 Best Zoom Alternatives for Online Recording
A list of Zoom alternatives for online audio and video recording, useful for podcasting and remote interviews.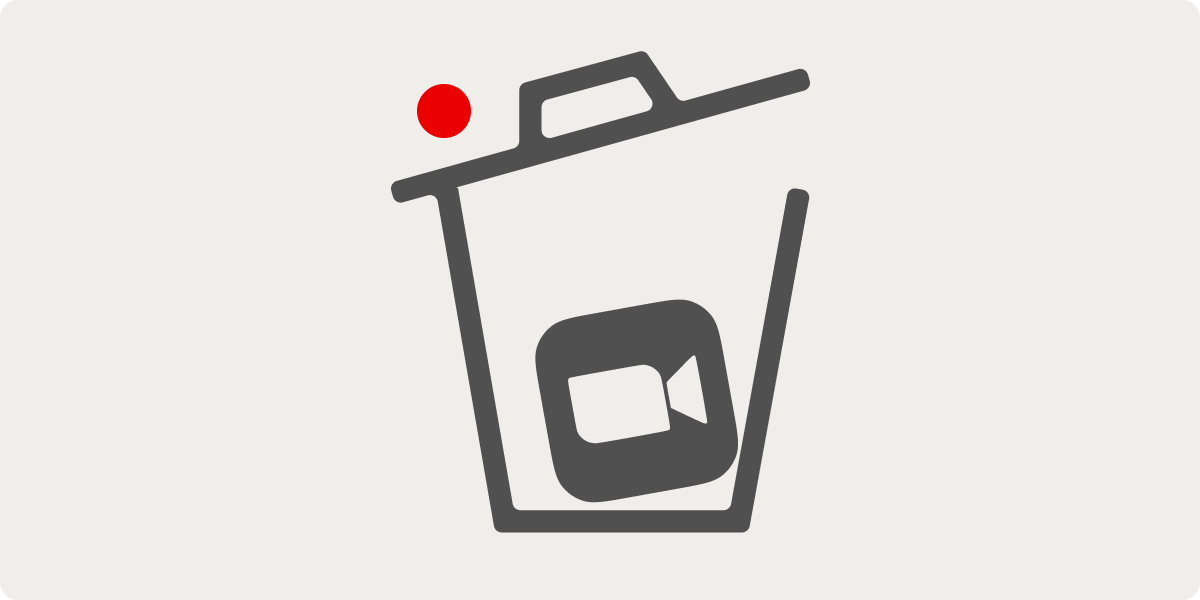 As the COVID-19 pandemic has evolved, the question of how to operate within teams without in-person meetings has consequently arisen.
Under such circumstances, with the growing popularity of remote work and teams spread globally, online meeting tools have become irreplaceable solutions, with Zoom among the top ones. But remote global teams with corporate communications aren't the only ones who have suffered: interviewing and podcasting are now also made remotely.
What if you want not only to meet but also record the online meeting, interview, or even podcast — audio, video or both? Zoom isn't the only solution when it comes to recording remote online meetings.
In this article, we'll go over 10 Zoom alternatives for online recording and help you pick the one that better fits your needs.
Why you might need a Zoom alternative for online recording
Zoom is a popular video conferencing solution that allows you to meet other people virtually. It's compatible with various platforms, such as desktop computers as well as Apple and Android smartphones. It now also has a web-based solution for remote meetings. Apart from allowing you to remotely call multiple people at a time, it lets you share your screen during the meeting, send instant messages, transcribe the meeting and record it. This latter feature is of particular interest to us in this piece.
Considering such a full house feature-wise, why might anyone need to replace Zoom? Here's the reasoning.
The free plan of Zoom is insufficient, video quality often leaves much to be desired since it depends on the internet connection, and the tool doesn't always support HD video quality. This alone is a big con for those who want to record podcasts and remote interviews. The standard for video calls and recording on Zoom is 720p, and HD video is really only supported for small group calls.
What's more, Zoom doesn't have an option for recording each participant's audio and video locally if they're running the desktop app.
Data security issues, lack of customer support, and limited recording possibilities in the free tier are other concerns to name.
If you're looking for something other than that, check our list below.
Best Zoom alternatives for online recording
Here are our top solutions for podcasters and remote interviewers with relevant key features.
1. Waveroom
Waveroom is a new virtual recording studio that allows you to have remote video and audio calls, record interviews and podcasts in high quality, regardless of your current internet connection.
Unlike Zoom, its local recording quality doesn't depend on your internet connection. This ensures each meeting participant gets audio and video files of outstanding quality. The great features yet to come are in-app editing, noise and gap removal, and mobile support. The current limit of five simultaneous meeting participants might be a drawback for large teams and corporate communications, but for podcasters or interviewers, it won't be a disadvantage.  
Waveroom is currently available as a web-based client for Chrome, so you don't need to download and install the software on your computer, which is convenient for your guests.
Key features
Hosting online video meetings with the ability to record them.
Having audio-only calls with the ability to record them.
Local audio and video recording during the meeting.
Ability to invite up to four guests into the meeting via an invitation link.
Ability to join the room during the recording.
Individual workspace with personal rooms where you can delete and name rooms to easily navigate between your guests and previous calls.
The quality of the recording doesn't depend on your internet connection: a poor and unstable network won't affect your meeting. Thanks to local recording, you get digital audio and video files of each participant in perfect quality.
You'll get video files in 4K HD resolution with clean, uncompressed audio right after the session.
Pricing
The tool has two tiers: Starter (which is basically a free trial) with limiations and Premium that unlocks extended functionality of the service.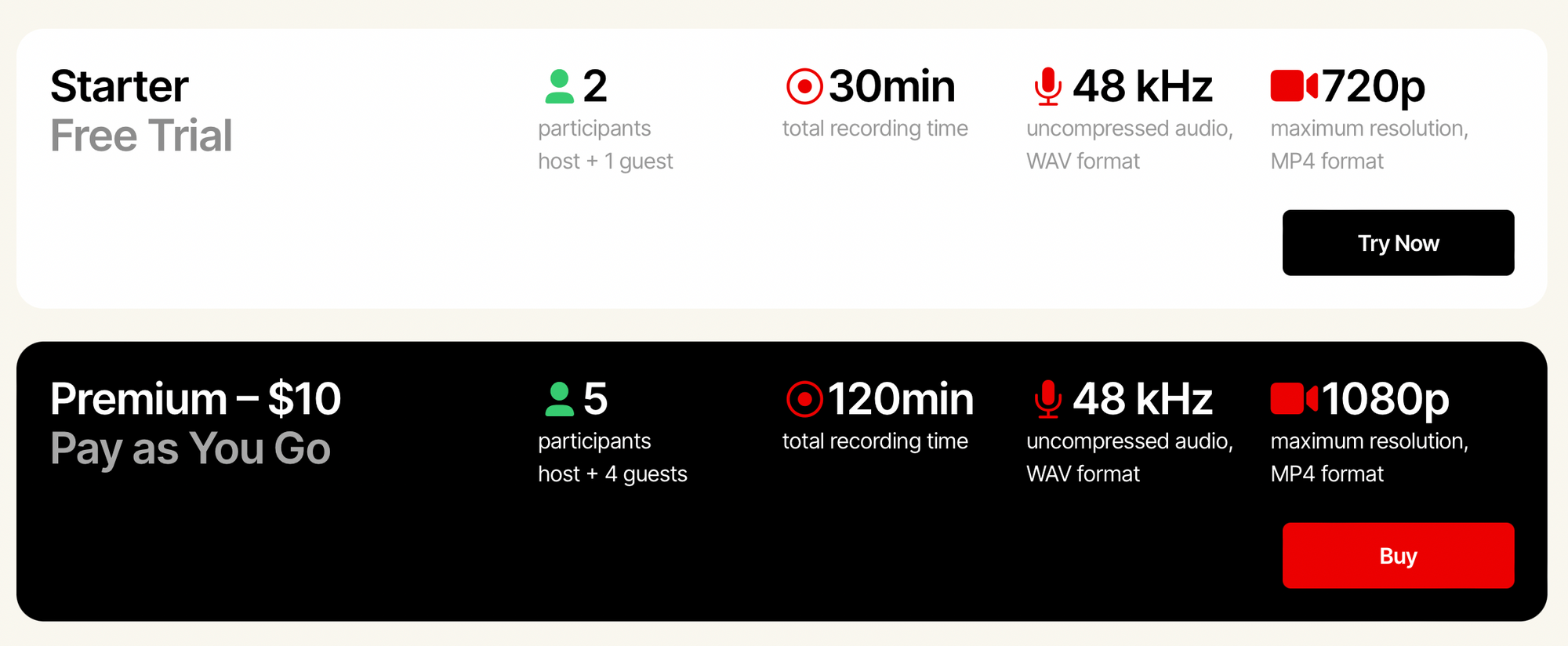 Perfect for
Podcasters who need flawless audio quality to share their shows elsewhere.
Interviewers who hold the interviews remotely and value high audio and video quality.
Remote teachers.
Regular users who want to record their audio or video meetings without losing the original resolution.
🔴 How to record online remote interview or podcast with Waveroom
Here's how you can record an online meeting in Waveroom, whether that's a video or audio-only call.
Note that Waveroom currently works only in Google Chrome. More browsers are on their way.
Open the Waveroom website on Google Chrome.
Find the Get started button at the top right corner of the screen and click on it to join the service.
Fill out the registration form or sign up with your Gmail address or Facebook.
Once you're signed up, you'll be redirected to your personal space, where you can start online audio-only or video meetings. The meetings are called Rooms.
To start a new podcast, press Create Room or press the + button in the top left corner of your screen.
Enter the name of your room at the top of the page.
Connect the best microphone and web camera you've got to your computer. It will help you get top-notch quality results.
Select your Video, Audio and Record preferences under the video preview. You can choose a video meeting, an audio-only room, or choose the Record option that will record audio, video or both.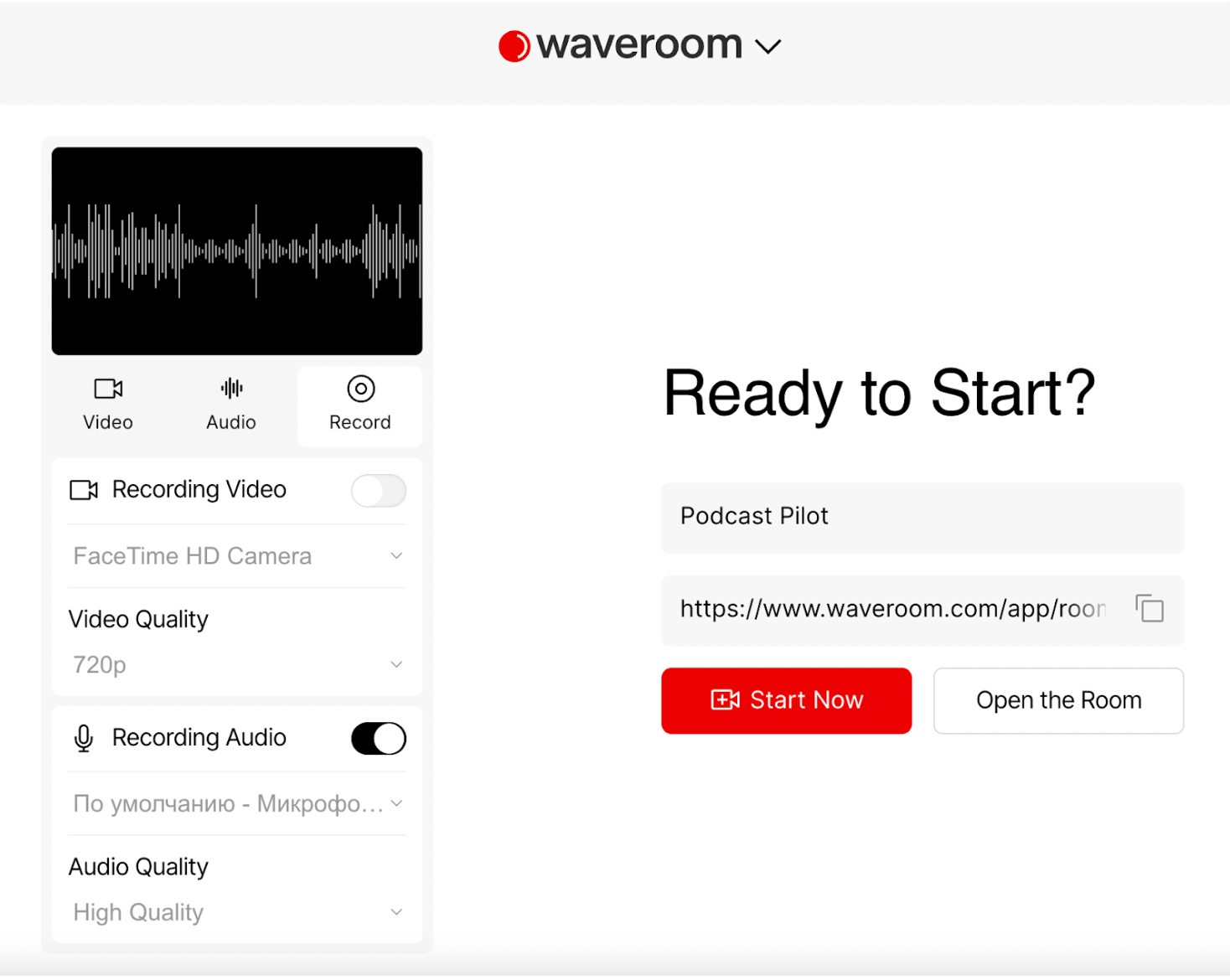 9. Copy the invite link. Send it to people you want to join as your podcast speakers.
10. Click the Start Now button to open your room.
11. Click the Start Recording button when you're ready to start the podcast.
12. Once the podcast is over, click the hang-up phone button to end the session.
13. Wait a few seconds while the meeting recording is saving.
14. Click the All Rooms button at the upper left corner of the page.
15. Click the room that you've been in. Here you can download the locally recorded video and audio files of each podcast guest.
You'll find the recording in your personal dashboard. You can then save it on your computer as an MKV file. More formats are coming soon.
2. Zencastr
This tool claims to be a podcasting-focused solution, not a video conferencing tool like some on our list. Zencastr is the ultimate all-in-one podcasting platform that allows you to record, edit, distribute and monetise shows from the same place.
Key features
Holding and recording audio-only and video podcasts in 4K quality.
Streaming the video live to the guests in the lowest resolution and then saving it in the highest one. Thus, there's never any audio lag during the interview, and the final saved video is crystal clear.
Audio tracks are recorded in 16-bit 48kHz WAV per guest, regardless of the internet connection due to local recording, with no time limits.
Multiple backups during the recording to ensure you won't lose anything.
The Live Soundboard feature allows you to insert any audio clips live as you record, enhance your podcast by adding custom intro, ads, or any audio enhancements on the fly, control looping, fading, and volume, all with hotkeyed playback.
English transcriptions.
Pricing
Zencastr has three pricing options available: Free, Professional ($20/mo), and Growth ($49/mo).
Perfect for
Podcasters, aspiring and professional alike.
3. Squadcast
Squadcast is also a new tool for remote podcasting and online recording. The tool is browser-based and is super easy to use: you start a recording right in your browser by registering and creating an account. If you need to invite guests to the meeting, you simply need to share an invitation link.
Key features
Outstanding video recording capabilities at up to 48kHz uncompressed WAV audio and 1080HD video.
Separate track recording.
Dolby integration for enhanced audio recording.
Audio mastering.
Integrations with other tools.
Video and screen recording.
Up to 25 hours of video recording.
Recordings auto saving in cloud storage.
Local recordings.
Easy post-production.
Pricing
Squadcast has no free option, and the paid plans are somewhat pricey. The cheapest tier is Indie for $20 per user per month. Then goes Pro for $40 per user per month, Studio for $80 per user per month and Enterprise — price needs to be enquired from the sales team.
Perfect for
As Squadcast itself claims, the tool is a great option for:
Aspiring podcasters.
Large production teams.
Businesses and enterprises that produce audio and video content on a regular basis.
4. Zoho Meeting
Zoho Meeting is an open-source video conferencing solution that allows users to hold video meetings as well as record them. If you're concerned about the tool being open-source, you should know the platform protects your privacy with its advanced end-to-end encryption technology. Zoho Meeting is easy to master and isn't stuffed with features you won't be using.
Key features
Holding and recording online meetings with up to 100 participants (basic pricing plan).
Compatibility across desktop, Android, and iOS devices.
Ability to invite co-hosts for live streaming webinars to assist you with extra support and moderation.
Up to 250 webinar attendees limit.
Screen-sharing.
Storage of up to ten meetings.
24-hour meeting length.
Pricing
Zoho Meetings has three pricing options with a 14-day free trial available to get to know the tool's functionality: free plan, Meeting, starting at $3/host per month, and Webinar, starting at $19/host per month. The final price depends on how many participants you need.
Perfect for
Corporate communications.
Recruitment remote interviews.
Webinars.
5. Cast
Cast is an online solution for podcasting and online recording. It records audio and video locally and syncs it to the cloud, which allows users not to worry about Internet connection failures and ensures high quality of the recorded content. The tool isn't overloaded with features and isn't pricey.
Key features
Ability to record, edit, publish in RSS, and host a podcast right in the app.
Great fidelity.
Podcasting analytics.
No login for guests.
Cloud audio storage.
The audio format is MP3 with a 128kbps bitrate, a high sample rate of 48 kHz and a bit-depth of 32-bit float, allowing it to sound great.
Up to 100 hours of recording time per month.
Pricing
Besides the one-month free trial, Cast has two pricing options: Hobby for $10 per month and Pro for $30 per month.
Perfect for
Emerging and professional podcasters.
6. BlueJeans
BlueJeans is used by Facebook, Adobe, and a plethora of other big names, so you can be sure of the quality the tool delivers; the range of features they offer is also impressive. Breakout sessions, customisable backgrounds, real-time captioning, keyboard control, and screen readers, in addition to simple video meeting hosting, make the tool accessible and pleasant to use. By purchasing the Enterprise package, you can also add your own branding to the software.
Key features
Up to 200 participants in a meeting.
Audio-only conferencing with great audio quality, noise suppression feature, spatial audio profiling, and automatic sound level adjustments.
Video quality is 4K HD.
Ability to see up to 25 participants simultaneously with automatic resizing of each stream to fit a user's screen.
Note-taking for the whole team.
Integrations with a plethora of tools, including Slack, Google Calendar, Salesforce, and more.
Automatic meetings recording with the ability to pause it. The recording captures audio, video, and meeting content such as notes.
Remote screen control and screen sharing.
Live closed captioning and transcription.
Pricing
BlueJeans has three pricing plans (Standard for $12.49 per host per month, Pro for $17.49 per host per month, and Enterprise for $20 per host per month) with the ability to pay either monthly or yearly.
Online meeting recording is available in all three plans: 5 hours limit in Standard, 25 hours limit in Pro, and unlimited recording in Enterprise.
Perfect for
Corporate communications, especially within large teams.
Interviews for recruitment and journalists' interviews.
7. RingCentral MVP
RingCentral MVP is yet another web-based video conferencing solution that doesn't require you to install anything on your computer and can be used for remote interviews and podcasts. The tool allows you to place up to 200 simultaneous users in a meeting, as well as enable the participants to send instant messages, have audio calls, use whiteboarding, share screens, and drag and drop files in real time.
Key features
Real-time transcription.
Background noise suppression.
Ability to host and record audio and video meetings.
24-hour meeting duration limit.
Ability to get the meeting summary of key meeting moments, transcription and closed captioning.
Instant and pre-scheduled meetings.
Dial-in access to pre-scheduled meetings by receiving a call through Android and iOS apps or by clicking the invitation link.
Integrations with third-party solutions.
Message search.
Video quality is 1080p full HD.
HD audio quality.
Pricing
RingCentral MVP has four pricing plans: Essentials ($30 per user per month), Standard ($40 per user per month), Premium ($45 per user per month), and Ultimate ($60 per user per month). Each plan has a free limited version, and the cheapest paid option starts at $30 per user per month. Automatic call recording is available in tiers Premium and Ultimate.
Perfect for
Corporate communications.
Remote interviews.  
8. Airtape.co
Airtape.co is an online solution for studio-quality remote interview and podcast recordings for Chrome, Firefox, Edge, and Opera. The tool allows users to record meetings online, invite guests via invitation link, and download recorded files from each participant as a separate track. The tool doesn't have a free version but allows you to test it for seven days with no credit card required.
Key features
Multiple backups every couple of seconds to ensure your recording isn't lost, even if the internet connection is.
Local recording to ensure audio call quality in 320kbps and saving in WAV.
Invitation link-based co-hosting and guest inviting.
Intuitive interface.
Unlimited number of guests.
File archive for 90 days.
Pricing
No free plan with a 7-day trial period that doesn't require your credit card details. The pricing options are as follows: Basic for €8,99 a month, Podcaster for €17,99 a month, and Professional for €37,99 a month.
Perfect for
Podcasters with one or multiple guests.
Remote interviews for HRs, journalists, marketers, or other professionals.
9. 8×8 Meet
8x8 Meet is a standalone video and audio conferencing tool that allows users to hold unlimited meetings for up to 500 participants. The platform lets users have individual rooms with personal workspaces where they can manage their conferences. This is especially useful for pre-scheduled meetings. Participants can join meetings by email invitation, link sharing, Google Calendar or Outlook integrations, outbound phone calls, or dial-in access.
Key features
Audio and video conferencing with recording, transcription and screen sharing.
Up to 500-participant limit.
Personal meeting spaces and chat messaging.
Chat history and attendance tracking.
Live streaming to YouTube.
English-only real-time closed captions.
HD audio and video quality.
Pricing
Three pricing plans are available: Express ($15 per user per month), X2 ($24 per user per month), and X4 ($44 per user per month). The Express plan allows you to have a 30-day trial period.
Perfect for
Corporate communications.
Remote interviews.
Webinars.
10. Dialpad Meetings
Formerly known as UberConference, Dialpad Meetings is a video conferencing tool that is available either as a standalone app or as part of an all-in-one Dialpad solution. The distinguishing feature of Dialpad Meetings is exceptionally high video quality because it automatically adjusts video resolution based on the available bandwidth.
Key features
HD video conferencing with background noise reduction.
5-hour meeting length limit.
Post-meeting summaries.
Unlimited automatic recording and transcription.
In-meeting chat messaging.
Screen sharing and file sharing.
Meeting control (muting, meeting locks, removing of participants, etc.).
Audio-only conferencing.
Salesforce, Microsoft 365, Google Workspace, Twitter, LinkedIn, HubSpot, EverNote, and more integrations.
Pricing
Dialpad Meetings has two pricing options: Free and Business for $15 per user per month.
Perfect for
Corporate communications.
Remote interviews.
Conferencing within large teams.
Zoom alternatives for online recording: In closing
There's a plethora of tools available on the market that can act as a proper Zoom alternative when it comes to online recording. Some tools from this list — with a multitude of features a regular user or podcaster won't even need — are more suited for large companies. Meanwhile, some of the above can be easily used to record family chats, small video events, podcasts, and remote interviews with a few attendees.
The pack of features is quite the same from tool to tool. In addition to meeting recording, the majority of tools offer transcription, interactive elements such as hand raising, audio-only calls, screen sharing, customised backgrounds, in-app messaging, background noise removal, audio editing, and more. Pick the tool you find best for your needs and take your remote recordings to the next level.
---
Follow Waveroom on Twitter, Facebook and Reddit to always be in the loop with all our updates.