10 Best Podcast Hosting Platforms to Distribute Your Show in 2023
Top hosting platforms to place, store, and distribute your show.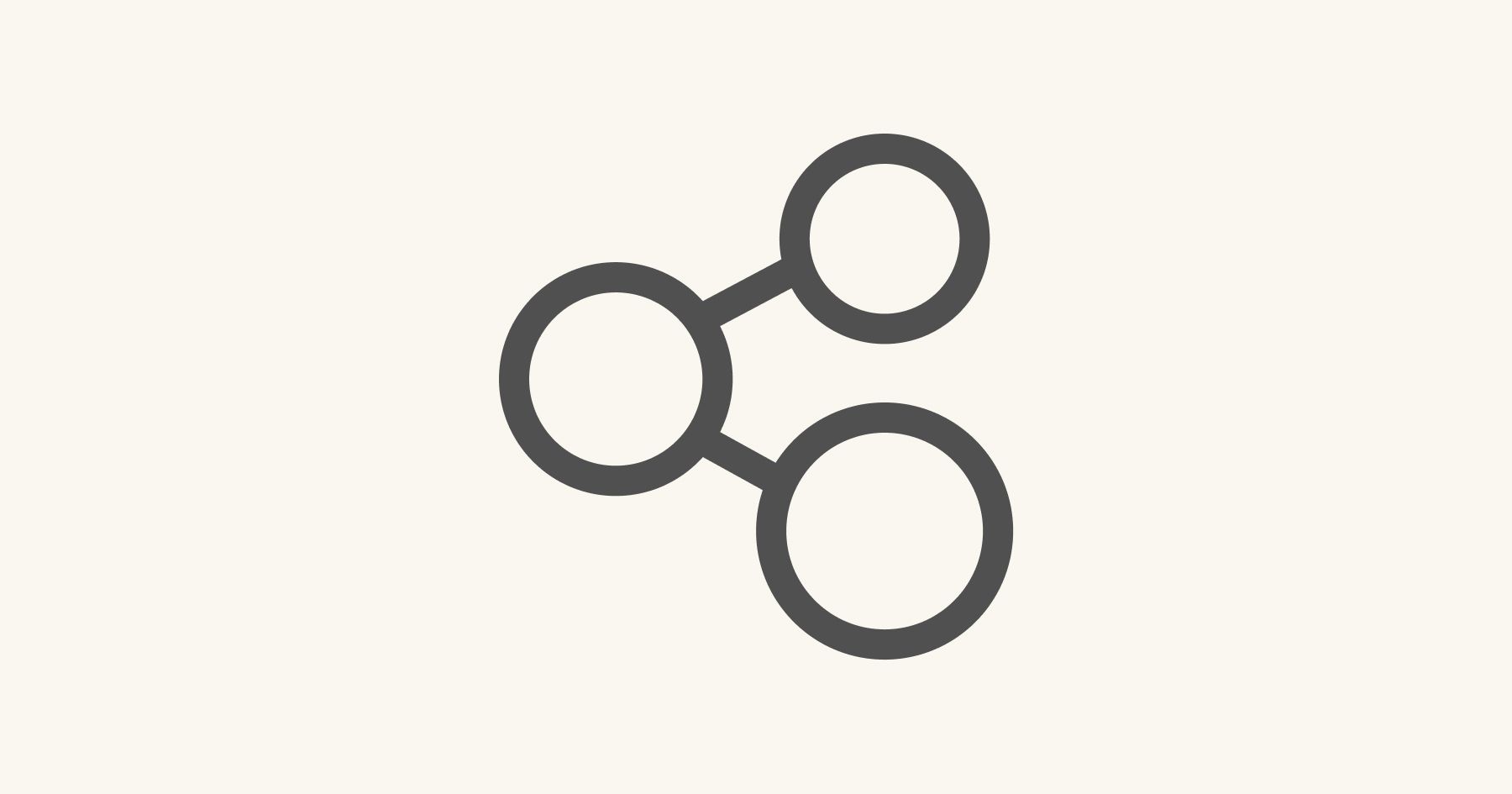 Podcast growth depends on distribution, but it's hardly possible to seamlessly distribute your show without a podcast hosting platform.
Podcast hosting is that magical thing that automatically takes your show and pulls it to Spotify, Apple Podcasts, and other directories as long as you upload an episode. Let alone the monetisation and analytics capabilities of podcast hosting, which can make your work more productive. It's crucial to approach the choice of hosting wisely as they all possess a certain number of features that might seem similar at first glance but are different in reality.
In this article, we've done half the job for you and now sharing the list of 10 best podcast hosting platforms thoroughly analysed and hand selected for you.
What is a podcast hosting platform & why podcasters need one?
Is it possible to do without a podcast hosting platform and do everything on your own just with the help of a website? It is, but managing, distributing, analysing, and monetising a show will be a lot more daunting and take more time to handle.
Having a podcast host isn't a necessity but a thing that'll save you some nerves and time.
Podcast hosting is storing and delivering audio or video podcast files to listeners. It's an essential component of the podcasting ecosystem, enabling podcast creators to make their content accessible to a wide audience.
And the platform that hosts a podcast does the following:
It ensures that your show will land on all podcast directories you want it to.
Allows you to monetise your podcast and analyse its performance.
Provide storage space for the audio or video files that make up your podcast episodes. These files can be quite large, especially for longer episodes, so hosting services offer ample storage capacity.
Allow you to manage the files: organise episodes, add metadata (such as episode titles, descriptions, and artwork), and schedule release dates.
Podcast files can consume significant bandwidth when listeners download or stream them, and hosting services are designed to handle the bandwidth requirements, ensuring that your episodes are delivered reliably and without interruption, even if your podcast experiences high traffic.
As your podcast grows and you produce more episodes, podcast hosting will accommodate your increasing storage and bandwidth needs.
The most important thing for the podcast host is, of course, the creation of an RSS feed. This feed contains information about your podcast, such as episode details and download links, and it's what allows podcast directories and apps to automatically update and display your latest episodes to subscribers.
Podcast host vs. podcast directory
A podcast hosting platform and a podcast directory serve two different functions in the podcasting world.
🔴 Podcast hosting platform is the primary location where your podcast's audio files are stored and distributed; where you upload your podcast episodes. A podcast hosting platform also generates a unique RSS feed for your show, which is used to distribute your podcast episodes to various podcast directories.
🔴 Podcast directory is a search engine for podcasts; where listeners go to discover and subscribe to different podcasts. When you submit your show's RSS feed to a podcast directory, your podcast becomes available for users to discover and listen to on that platform. Apple Podcasts, Spotify, and Google Podcasts are examples of podcast directories.
💡
A podcast hosting platform is where your podcast 'lives' (i.e., the episodes are stored and served), while a podcast directory is where listeners go to discover, subscribe to, and download or stream your podcast.
What to consider when choosing a podcast hosting
There are plenty of podcast hosting services available, and to make sure you're paying for the one you actually need, you need a list of selection criteria. So, when looking for a podcast host, pay attention to these points:
1. Storage. Above, we've mentioned that one of the purposes why you should even bother with buying a podcast hosting platform is that you need a place to store your episodes. When your podcast grows, you'll record more episodes, and you'll need some space to store the content somewhere. That's where a podcast hosting service comes in handy.
Before entering your paying details on the website of a podcast hosting, ensure it offers enough storage for your needs. Some charge based on the number of hours of audio you upload, while others might limit the file size.
2. Bandwidth. Check for any bandwidth limitations, as this can affect how many listeners can access your podcast at a time. The bigger your audience is, the bigger bandwidth you need.
3. Distribution. Ideally, the platform should automatically distribute your podcast to various directories like Apple Podcasts, Spotify, Google Podcasts, etc.
4. Analytics. Understanding your audience is key to growing your podcast. Many hosting providers offer analytics about your podcast's performance, such as the number of podcast downloads, listener locations, and listening platforms.
5. Monetisation. If you plan on making money from your podcast, look for a host with built-in monetisation options, such as ad networks, sponsorship opportunities, or listener donations.
6. SEO capabilities. Some hosting platforms offer SEO features to help your podcast show up in search results, making it easier for potential listeners to find your show.
7. Ease of use. Last but not least. The hosting platform should be user-friendly with an intuitive design and features to upload, manage, and distribute your podcast episodes.
10 Best podcast hosting platforms, paid & free
Spotify for Podcasters (Best free all-in-one solution)

Price: Free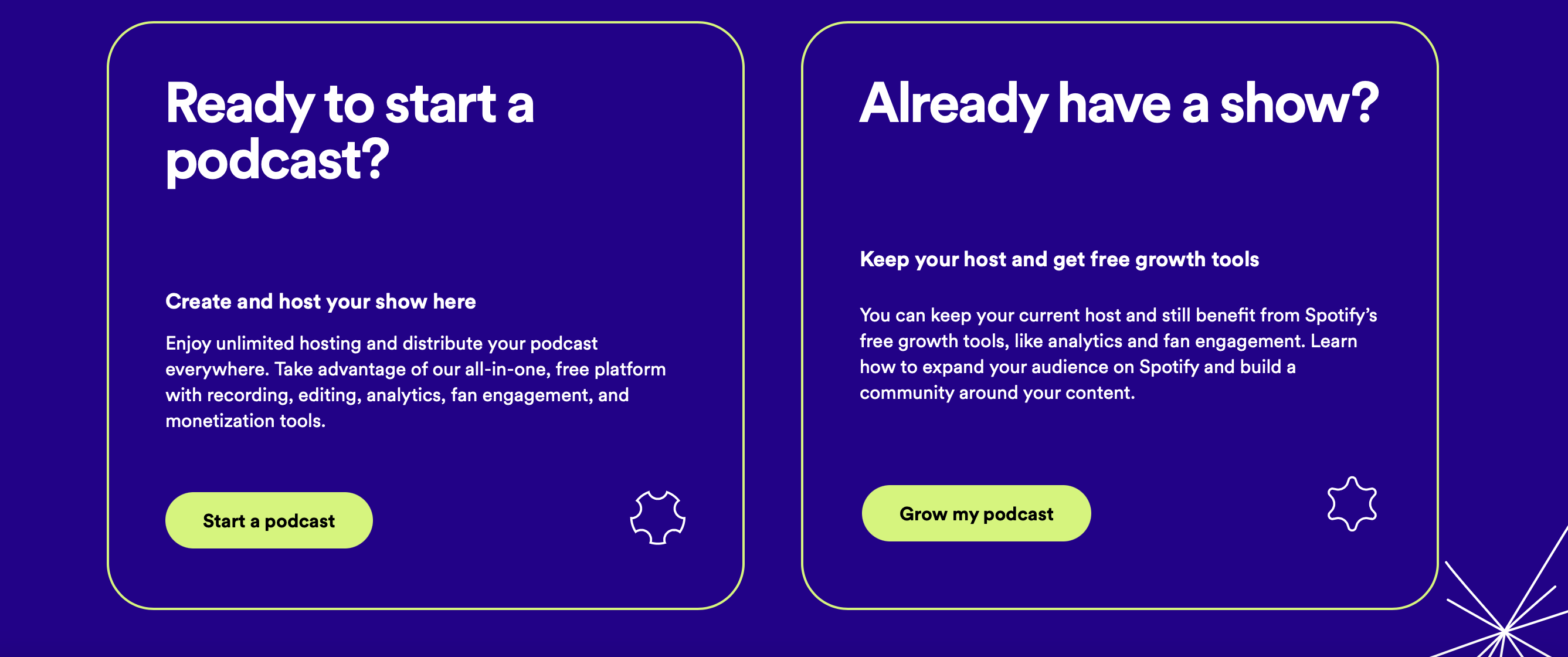 If you're new to podcasting and want to try it out, Spotify for Podcasters (which is now combined with Anchor) is a great choice for free hosting.
Spotify for Podcasters is a free, all-in-one podcast platform that provides powerful tools for beginners, pros, and everyone in between.
You can host their show on Spotify for Podcasters and distribute it everywhere, or keep their current host and still benefit from Spotify's free growth tools, like analytics and fan engagement. What's more, the platform offers editing, analytics, fan engagement, and monetisation tools. Creators can use fan engagement tools like Q&A and polls to grow their audience. Spotify for Podcasters is the most comprehensive tool for starting a podcast, and it's free for everyone, all the time.
Crucial features:
Record, distribute, analyse, and grow their show.
Gain access to exclusive earning tools and formats like video podcasts.
Forever free to use.
Connect with fans with tools like Q&A and polls.
Podbean (Best for distribution)
Price: An always-free plan. Paid options start at $9/mo.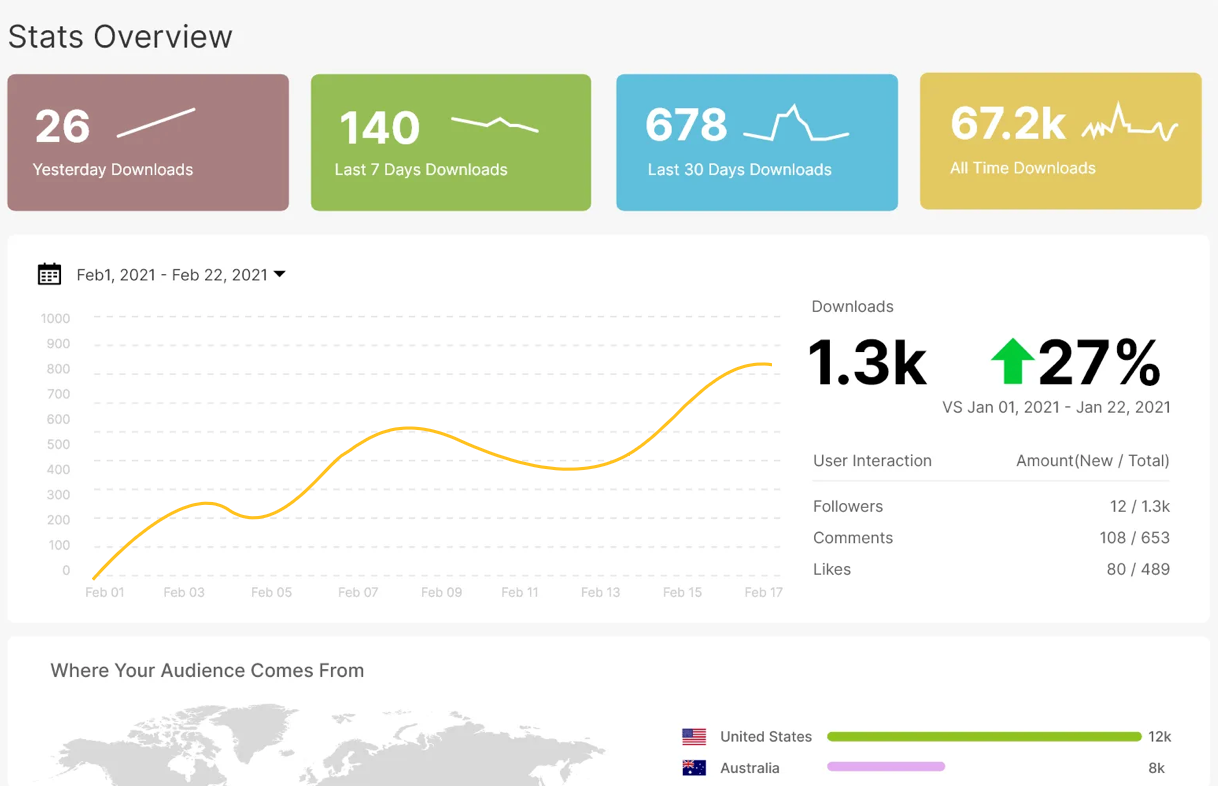 Podbean is yet another podcast hosting platform that deserves its place on this list due to its user-friendly interface, unlimited storage, and bandwidth. It's very easy to use with a user-friendly interface, and it offers unlimited storage and bandwidth, which is great. You can also use beautiful design tools to create a website with customisable themes. If you're just starting out, their free plan is a good option, but if you're a professional podcaster or want to make video podcasts, their Unlimited Plus plan is the best choice.
The service is available as standalone iOS and Android apps.
Crucial features:
Unlimited bandwidth.
Customisable themes.
Embed player for WordPress.
Automatic distribution of a podcast to all popular directories and even social media.
Marketplace with monetisation opportunities, including subscriptions, dynamic ad insertion, and others.
Analytics tools.
Buzzsprout (Best for ease of use)
Price: Free plan. Paid options start at $12.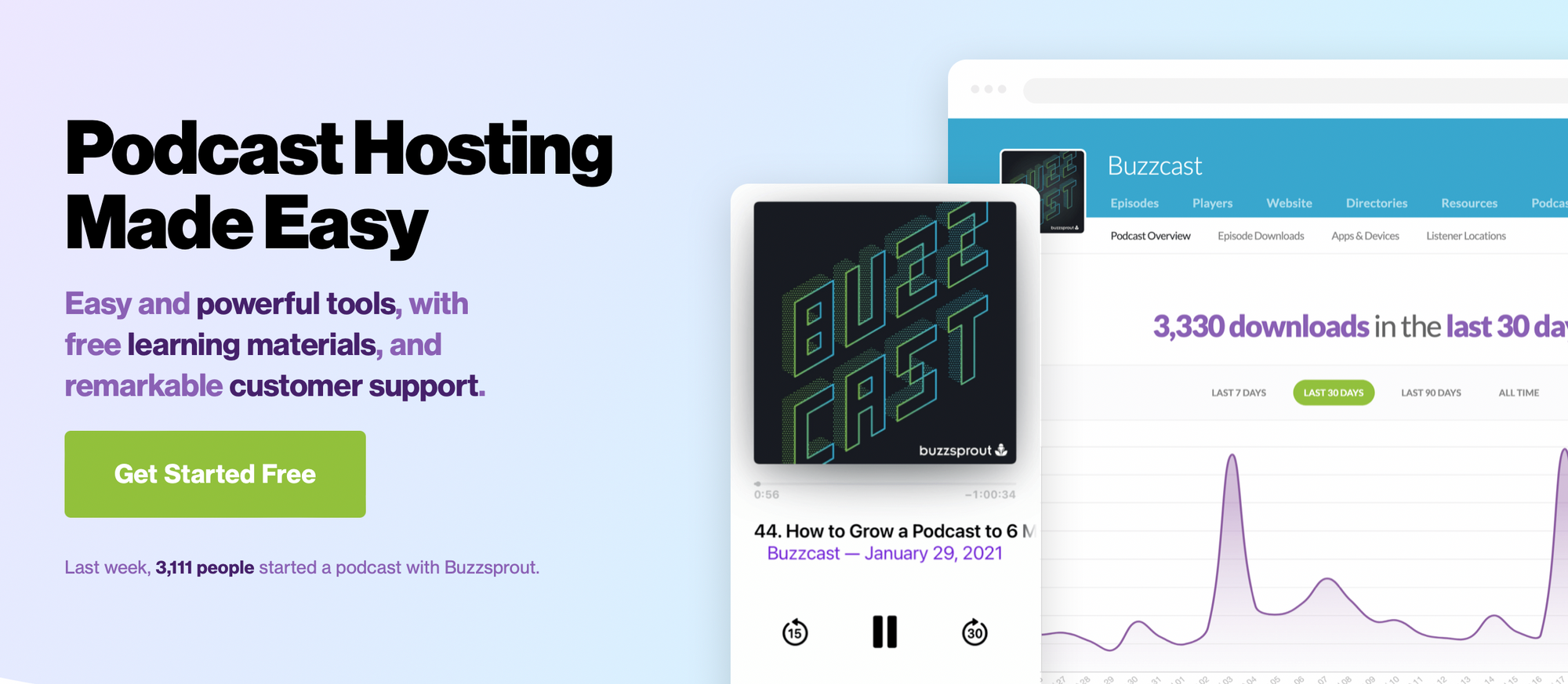 If you're new to podcasting or just doing it as a hobby, Buzzsprout is an ideal choice for you. It's user-friendly and allows creators to upload, publish, and analyse audience data through various analytical and statistical tools. Buzzsprout is also a great option if you want to make money from your podcast by running ads, selling merchandise, or offering exclusive content to your listeners.
Crucial features:
Custom domain name and a customised site right on Buzzsprout.
Embed player plugin for WordPress.
Auto distribution to all podcast directories.
Transcription of episodes.
Editing capabilities with mastering.
Automatic conversion of file types, bitrates, ID3 tags, etc.
Dynamic ads insertion.
Podcast episode scheduling.
Analytics.
Transistor (Best for big teams & brands)
Price: Has no free plan but has a free trial. Paid options start at $19/mo.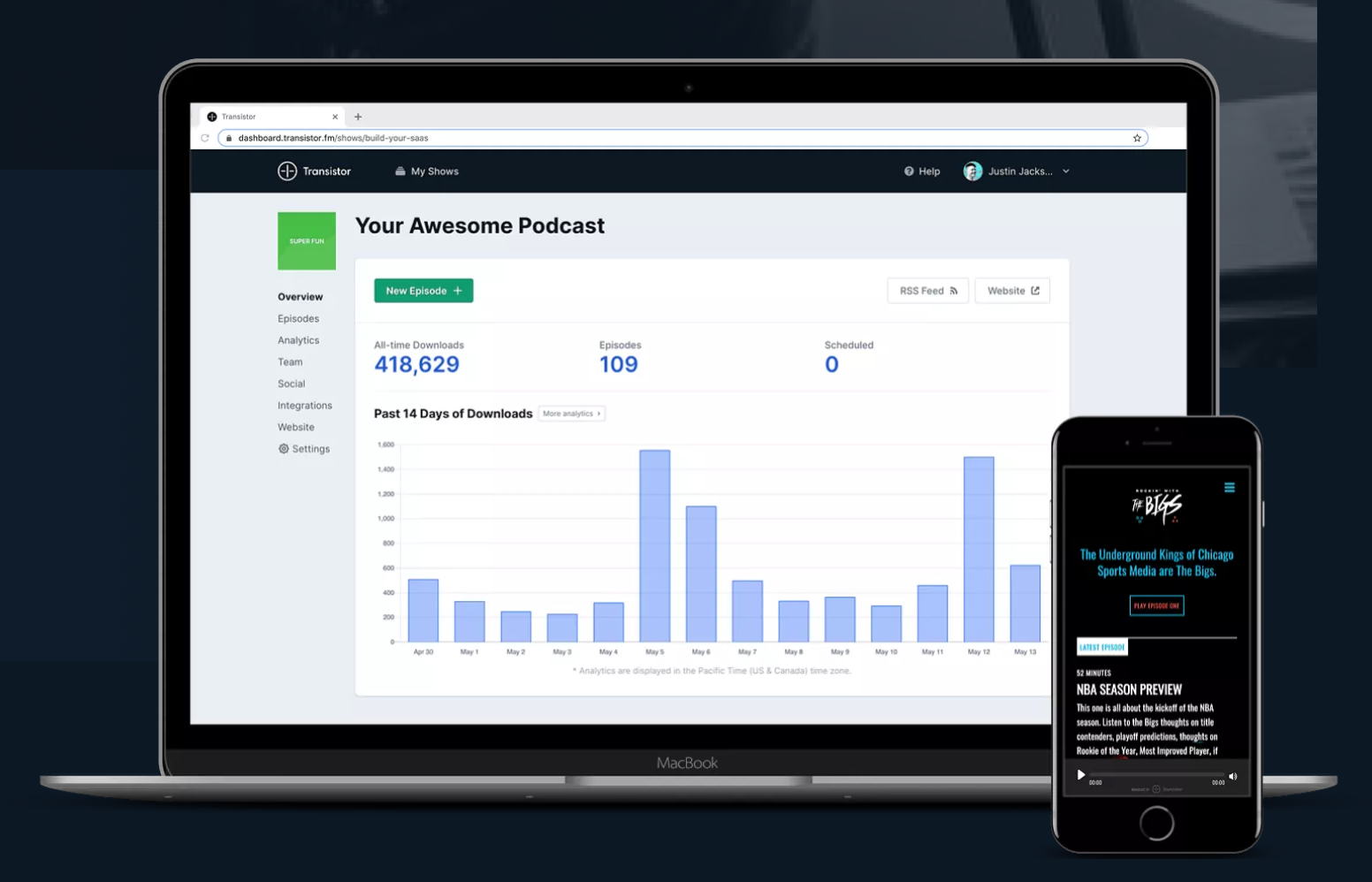 If you're looking for a podcast hosting platform that can accommodate multiple shows and teams, Transistor may be the solution you're looking for. With unlimited storage and bandwidth, advanced analytics, and the ability to customise your website, it's an ideal choice for those who want everything in one place.
Crucial features:
Advanced analytics.
Unlimited podcast hosting.
WordPress embedding or webpage hosting right on the platform.
Ability to host multiple podcasts.
Distribution to all top podcast directories, including YouTube.
Dynamic ads, such as pre-rolls, mid-rolls, and post-rolls.
Libsyn (Best for enterprises)
Price: Has no free plan. Paid options start at $5/mo.

Libsyn is a reliable podcast host that offers a range of plans with varying storage space and download limits. It also offers advanced analytics reports, premium content options at higher subscription levels, RSS link generation, and podcast publishing across all directories and platforms, and an app available with advanced plans.
Crucial features:
Podcast recording with the ability of remote recording.
Dynamic ads insertion.
Automatic distribution to all top podcast directories.
Built-in branding with Canva integration.
Smart settings that can be applied to a podcast episode by default.
Batch publishing and podcast scheduling.
Castos (Best for WordPress users)
Price: Has no free plan but has a 14-day trial. Paid options start at $19/mo.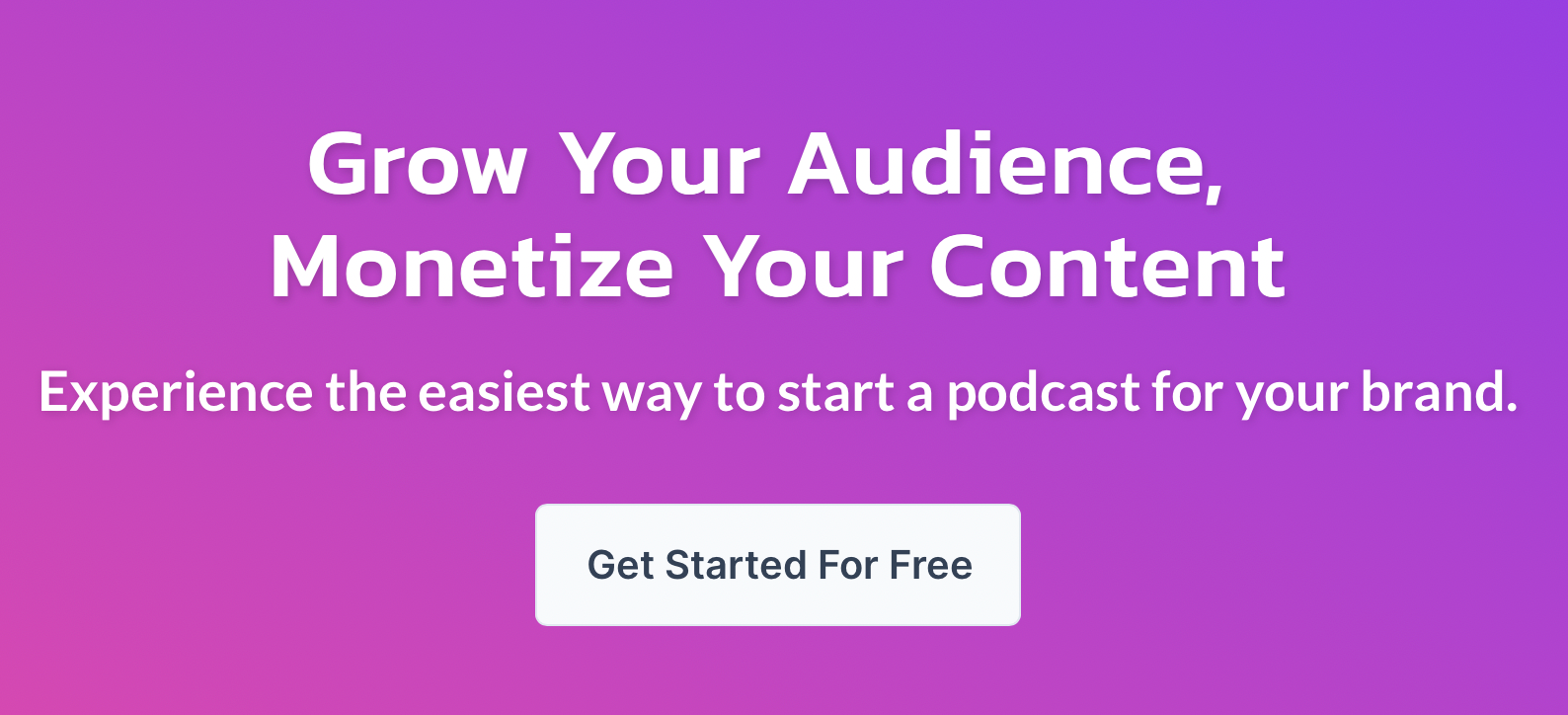 If you're a podcaster looking for a reliable hosting platform with plenty of features and support, Castos is worth considering. With unlimited storage and bandwidth, customisable website options, and advanced analytics, it's a great choice for those using WordPress as their website platform.
Crucial features:
Direct upload of podcast episodes to the Castos dashboard.
Recording right on the platform.
Unlimited episodes, regardless of the plan.
Listeners analytics pulled from all listening platforms.
YouTube republishing.
Customisable player for your site.
Automatic transcription.
Monetisation opportunities.
Blubrry (Best for advanced growth tools)
Price: Has no free plan but has a month of free trial. Paid options start at $12/mo.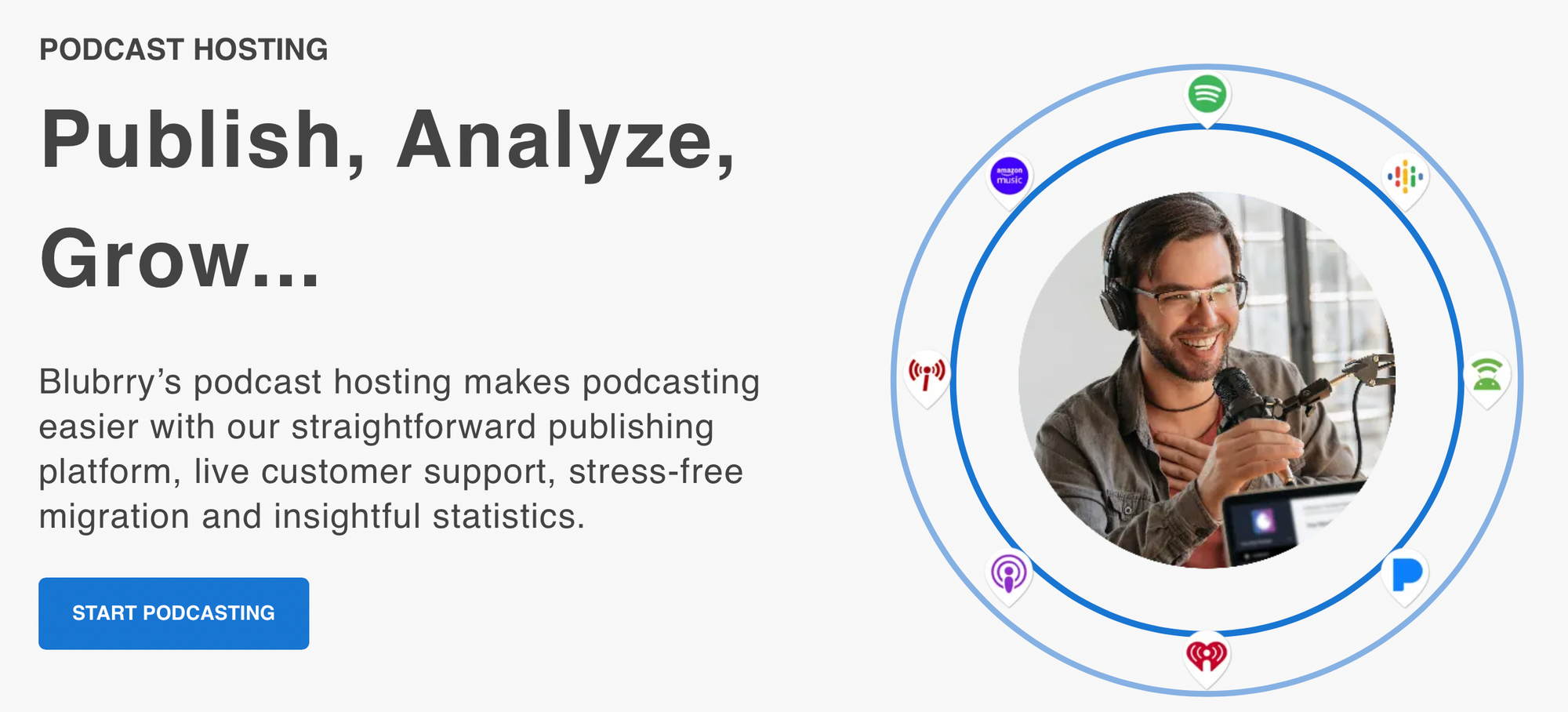 Blubrry is a customer-focused podcast hosting platform that'll work great both for individual podcasters who are just at the beginning of their journey, seasoned professionals, and enterprises. The platform offers analytics, growth features, monetisation capabilities, and even a free WordPress site to host your show!
Crucial features:
Distribution to all top podcast directories.
Live customer support.
PowerPress plugin.
Free WordPress website provided for creators.
Dynamic ad insertion.
Ability to create private podcasts for authenticated users.
Podcast analytics and audience surveys.
Advanced podcast growth tools, including media kit, programmatic ads, pro production, etc.  
Simplecast (Best for analytics)
Price: Has no free plan but provides a 14-day trial. Paid options start at $15/mo.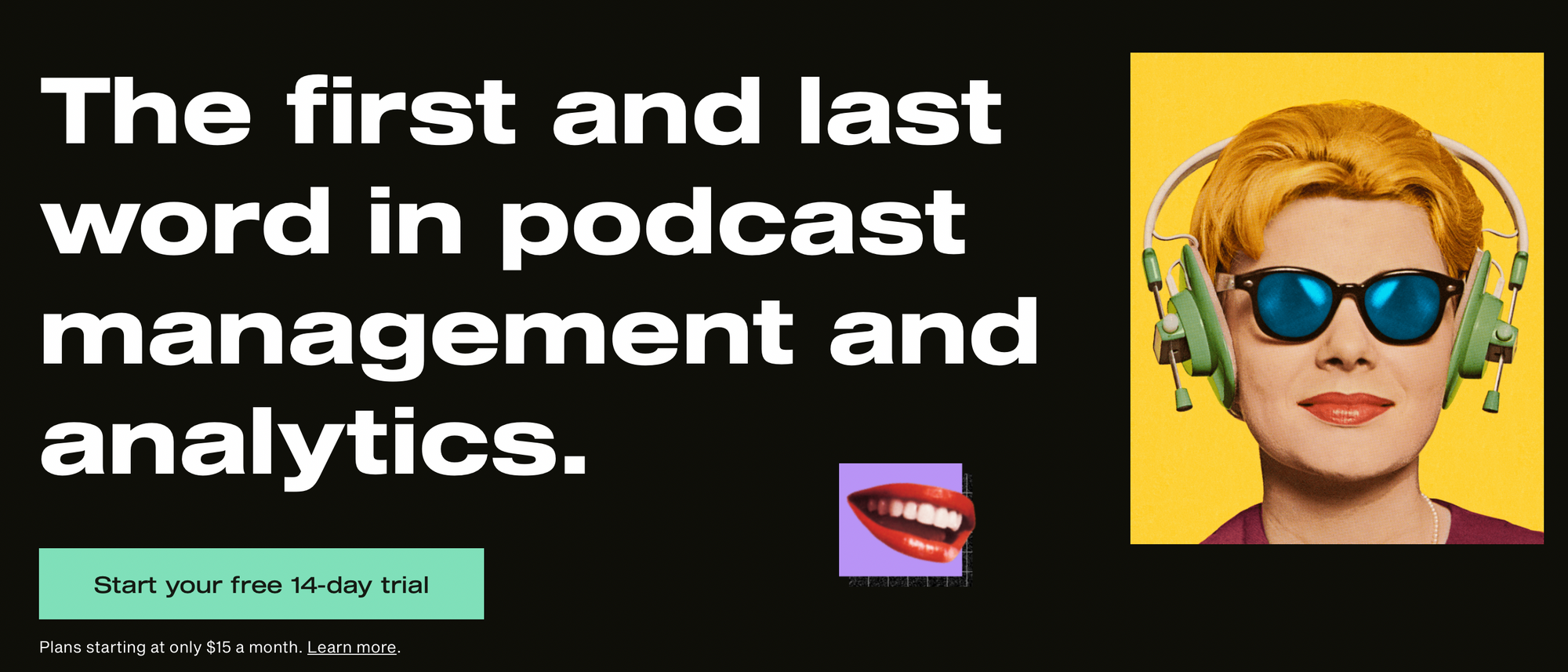 Simplecast is perfect for professional podcasters or podcast networks who look for visually appealing embedded players and comprehensive analytics from their hosting platform.
Crucial features:
Advanced analytics with insights that other hostings lack.
Unlimited storage and uploads.
Custom website and custom domain.
Multiple user management.
Manage multiple shows with one account.
Spreaker (Best for monetisation)
Price: Free plan. Paid options start at $6/mo.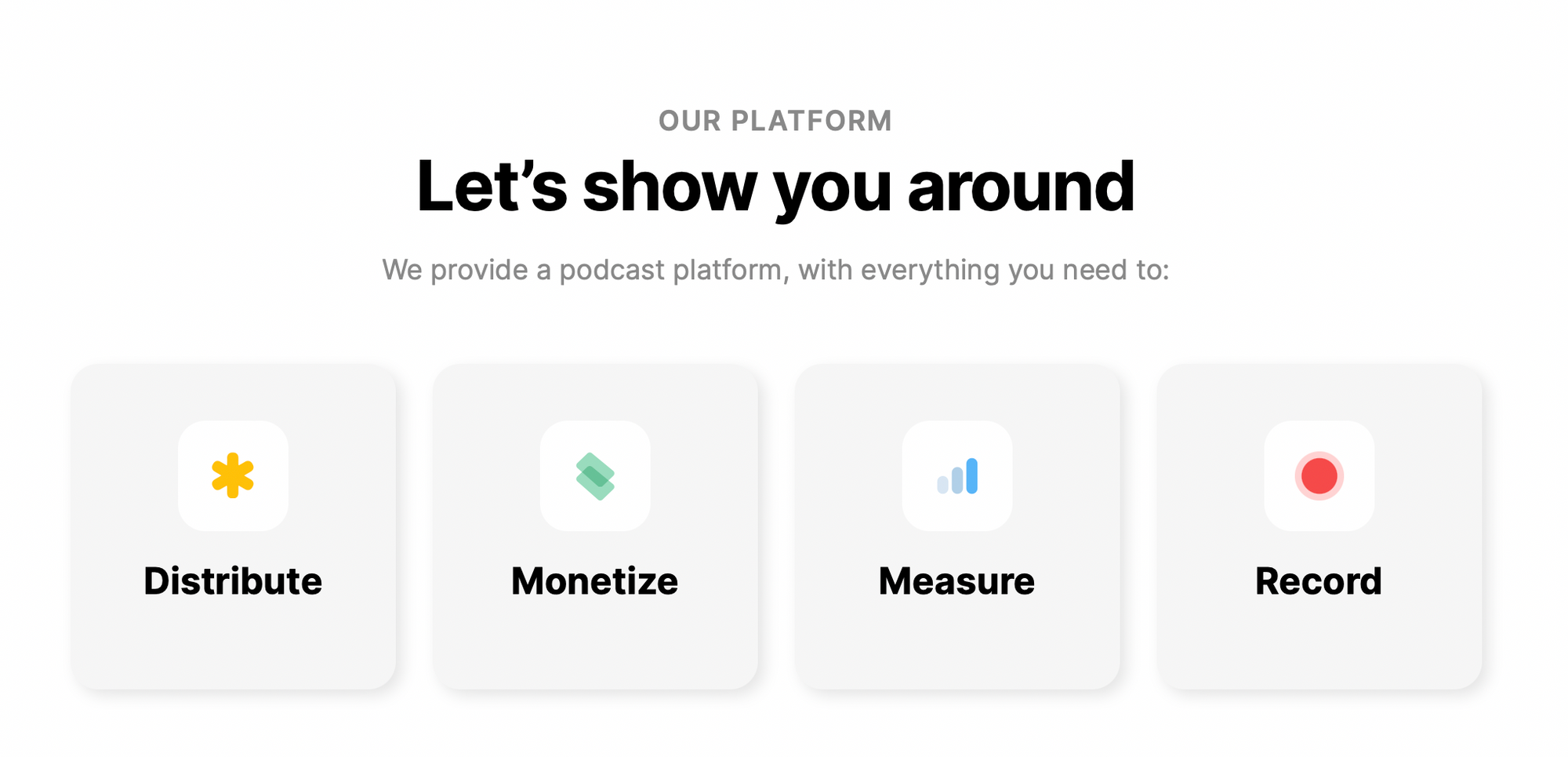 Spreaker is a podcast hosting platform that has everything you need to create, distribute, and monetise your podcast. With features that allow you to embed widgets on your website, schedule episodes, create private episodes, and insert ads, you'll have all the tools you need to make your podcast a success. The easy-to-use interface is perfect for new podcasters with limited experience.
Crucial features:
In-app recording or direct upload of a podcast episode.
Live podcast recordings with the ability to read listeners' chat messages.
Auto distribution to all popular podcast directories.
Advanced monetisation and ads options.
Trusted podcast analytics.
Recording with mixing tools and sound effects.
Customisable RSS feeds.
Apple Podcasts subscriptions.
Captivate (Best for podcast marketing)
Price: Paid plans start at $17/mo.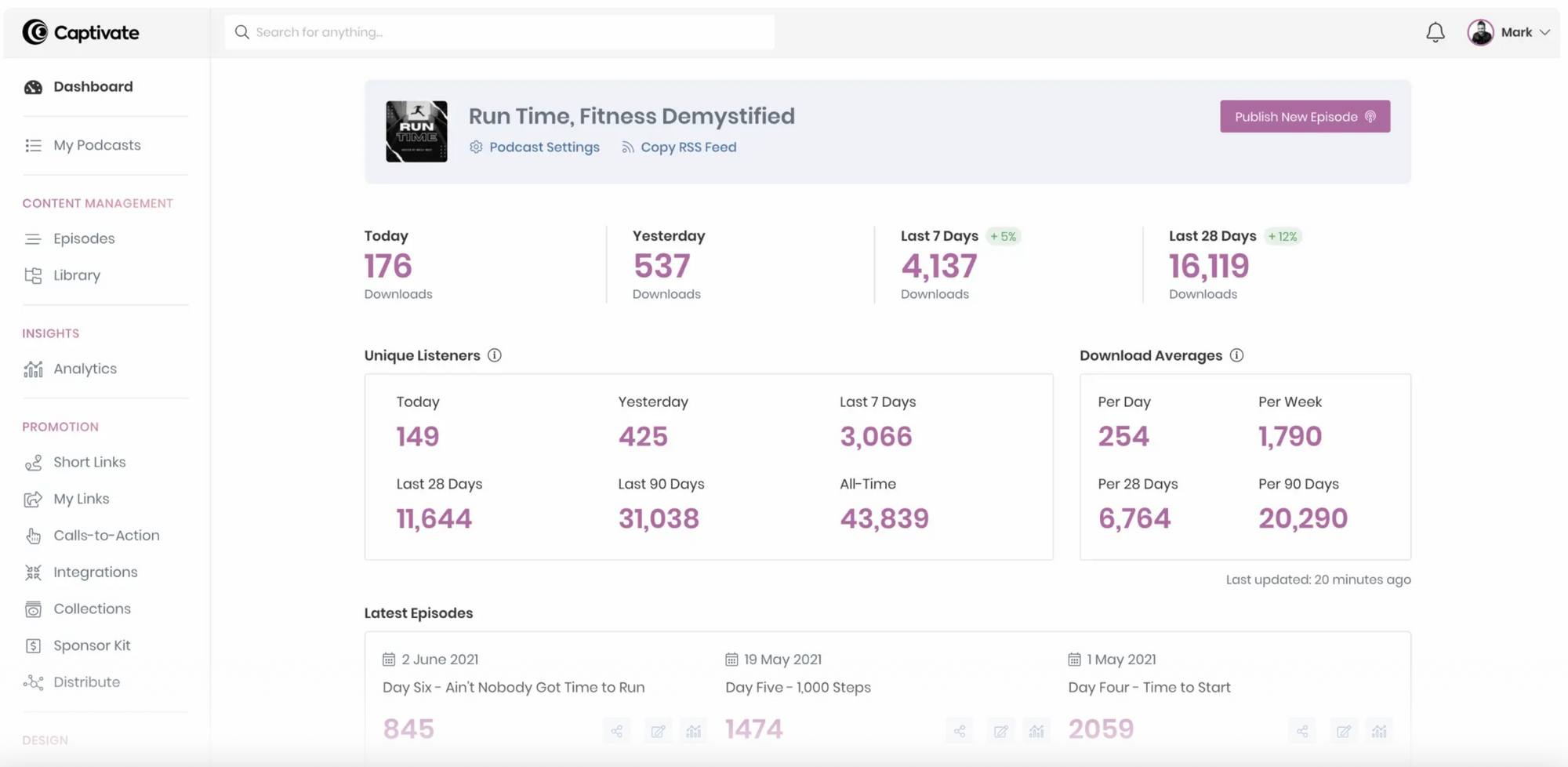 Captivate is a new podcast hosting platform focused on marketing and promotion of your show. The platform allows you to create and distribute unlimited podcasts, get advanced analytics, monetise, and promote in one simple, easy-to-use dashboard.
Crucial features:
Advanced analytics.
Built-in CTAs.
Unlimited team members.
Private podcasting.
Podcast scheduling.
WordPress integration with a custom plugin.
Distribution to all top directories.
Templates for a custom podcast site.
Podcast hosting: Final thoughts
Podcast hosting, like we've said above, isn't a necessity. What's more, there's no one perfect hosting platform that fits everyone's needs. When choosing yours, start with researching their bandwidth, distribution directories, storage, monetisation, and only then look for additional features, such as podcast scheduling or speech-to-text. Next, pick the one that fits your budget!
---
Want to share your experience from using a podcast hosting from this list or never miss posts like this? Follow us on Twitter, Instagram, Facebook, and Reddit.