SEO for Podcast: How to Optimize a Podcast for Search Engines
Podcast can benefit from SEO, too. Here's how to increase your podcast views with search optimization.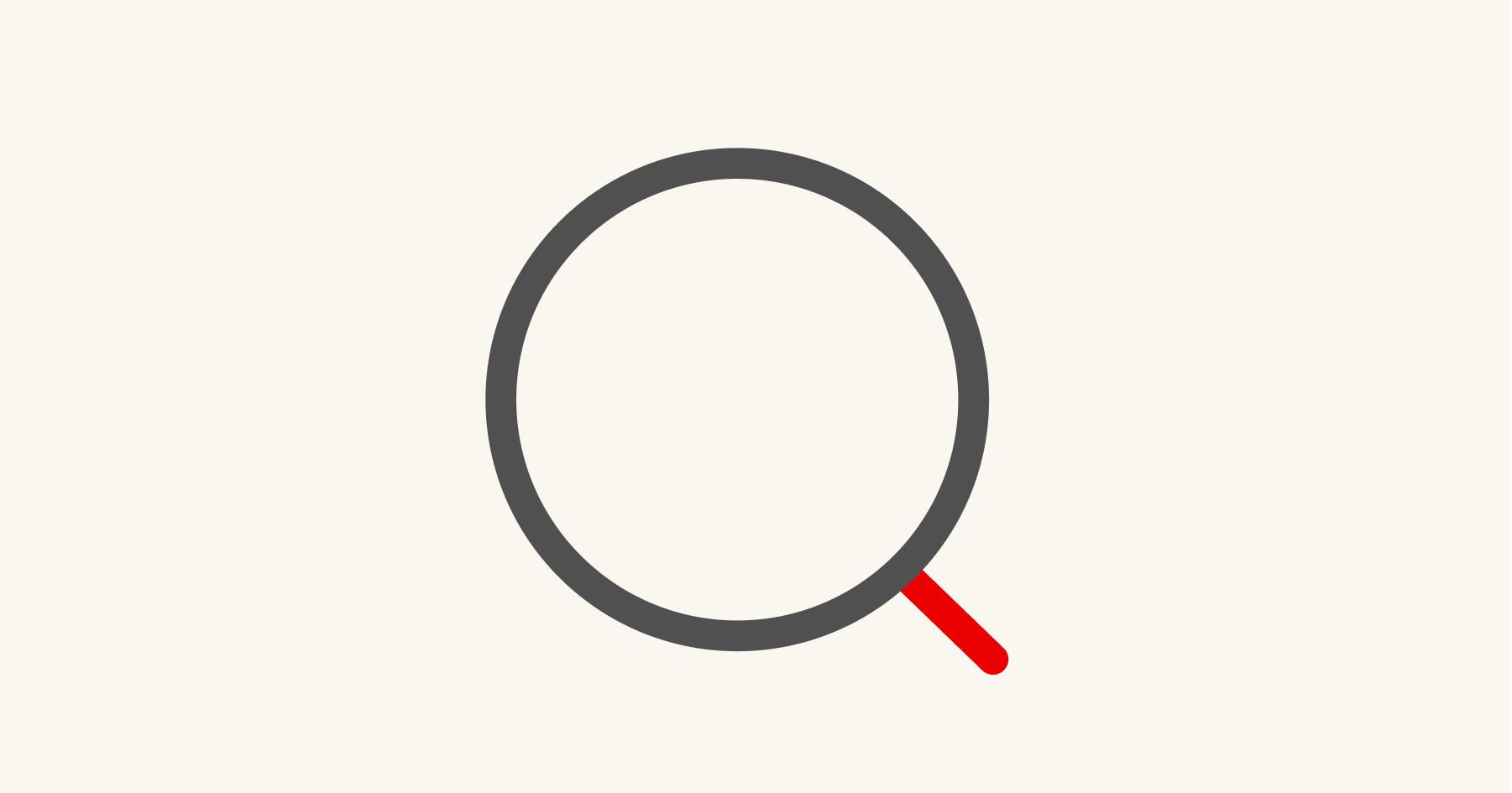 SEO isn't all about websites anymore. Social media content, YouTube videos, and now podcasts should be optimized for search to increase discoverability on YouTube and Spotify, as well as search engines.
Even though SEO is typically associated with written content and websites, podcasts can benefit from search engine optimization, as it boosts their visibility and helps reach a larger relevant audience.
This piece reveals how exactly you can optimize your podcast to rank on search engines, YouTube, and Spotify.
How people can discover podcasts
As per 2021 Edison Super Listener Study, people discover and listen to podcasts on multiple different platforms. Surprisingly, YouTube is among the top five places to listen to podcasts. Even though YouTube is initially made for video content, people watch and listen to video podcasts in the background.
💡If you're not yet leveraging the power of YouTube for your show's growth or don't know where to start, check our guide on video podcasting.
Here are the places where your show can be found and listened to:
Podcast directories: Apple Podcasts, Spotify, Google Podcasts, or Stitcher are popular platforms where users can discover new podcasts. These directories have search functionalities, curated lists, categories, and recommendations to help listeners find podcasts based on their interests.
Word of mouth: Recommendations from friends, family, colleagues, or online communities can be a powerful way to discover new shows.
Social media: Platforms like Twitter, Facebook, or Instagram have active communities and threads where podcast recommendations and discussions take place.
Podcast networks: Podcast networks or production companies often have multiple shows under their umbrella, so if people enjoy a show similar to yours, exploring other podcasts produced by the same network can help them discover your podcast as well.
Search engines: Google, Bing, and Yahoo provide podcast recommendations based on specific keywords or topics. When listeners search for a particular topic followed by the word "podcast", they find relevant shows.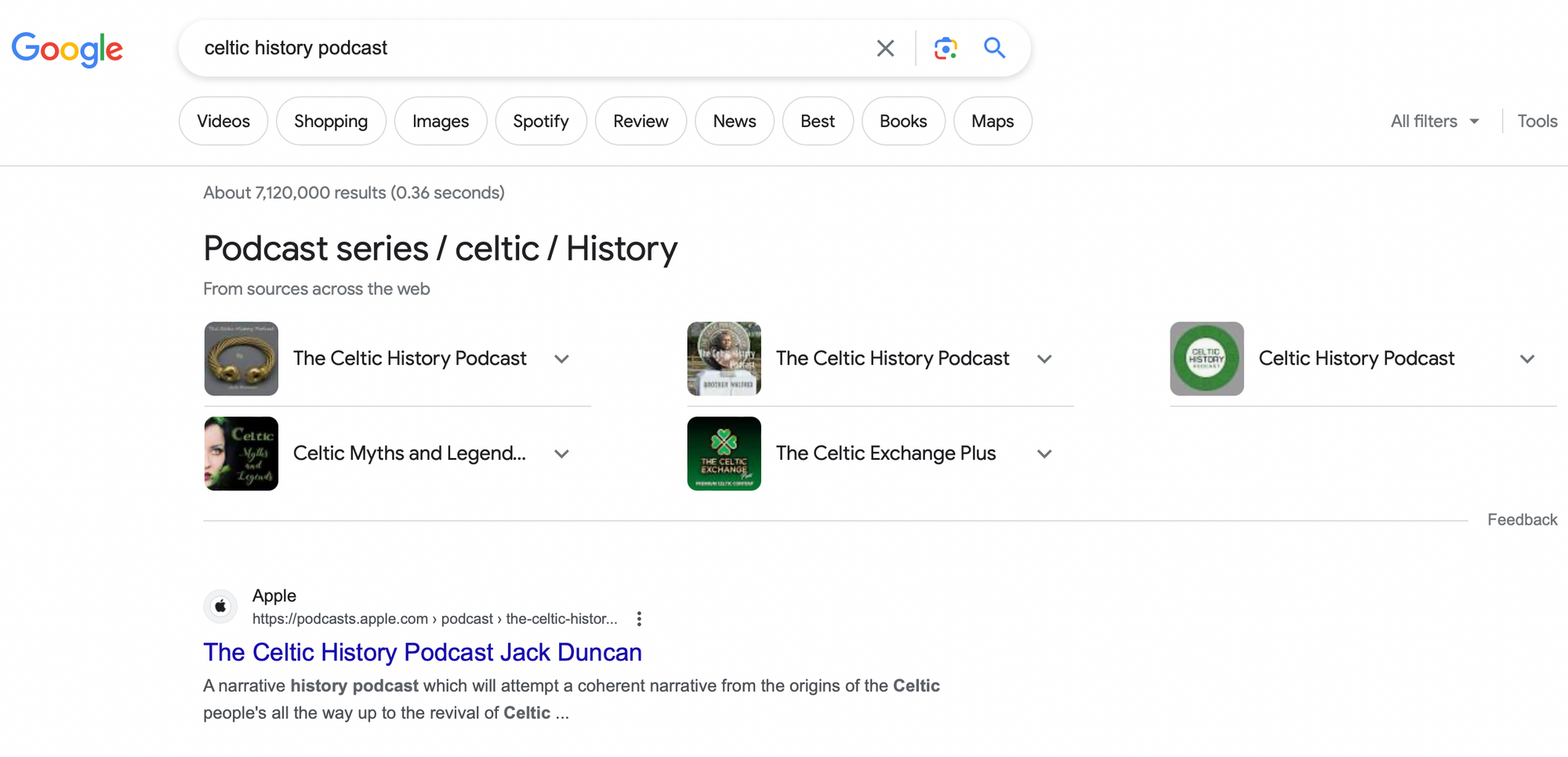 6. Recommendations within podcasts: Many podcast hosts promote other shows they enjoy or provide recommendations within their episodes. They may suggest your podcast as well!
7. Podcast awards and lists: There are various podcast awards and curated lists that highlight the best shows in different categories. If you manage to get featured by one of these, more listeners will discover your show.
8. Podcast events and conferences: Attending podcast events, conferences, or live shows allows you to engage with podcast creators and fellow enthusiasts. These events often showcase a wide range of podcasts, providing opportunities to discover new content.
9. Traditional media and advertising: Some podcasts receive exposure through traditional media outlets like newspapers, magazines, radio shows, or TV appearances. Advertisements on various platforms can also introduce new podcasts to potential listeners.
🎙 To record a quality podcast remotely, use Waveroom—a virtual recording studio that allows you to record remote podcasts and interviews as videos or audio-only calls. Audio and video are recorded locally, so even a poor Internet connection won't ruin your show!
What is SEO for podcasts?
SEO or search engine optimization, when applied to podcasting, is a technique designed to help audio content rank in search results on Google, Bing, Yahoo, YouTube, Spotify and other podcast directories, as well as other sources of podcast discovery.
The aim of SEO is to have your show appear in search results, responding to a search query with a specific keyword or phrase. SEO for podcasts is extremely important, as Google now features a Podcasts section on its SERPs (search engine results page like the example above).
The higher your show ranks, the more listeners it'll attract.
✨ Now, Google search results also have the Spotify filter. By pressing on it, you'll see all top-ranking shows associated with your search query uploaded to Spotify.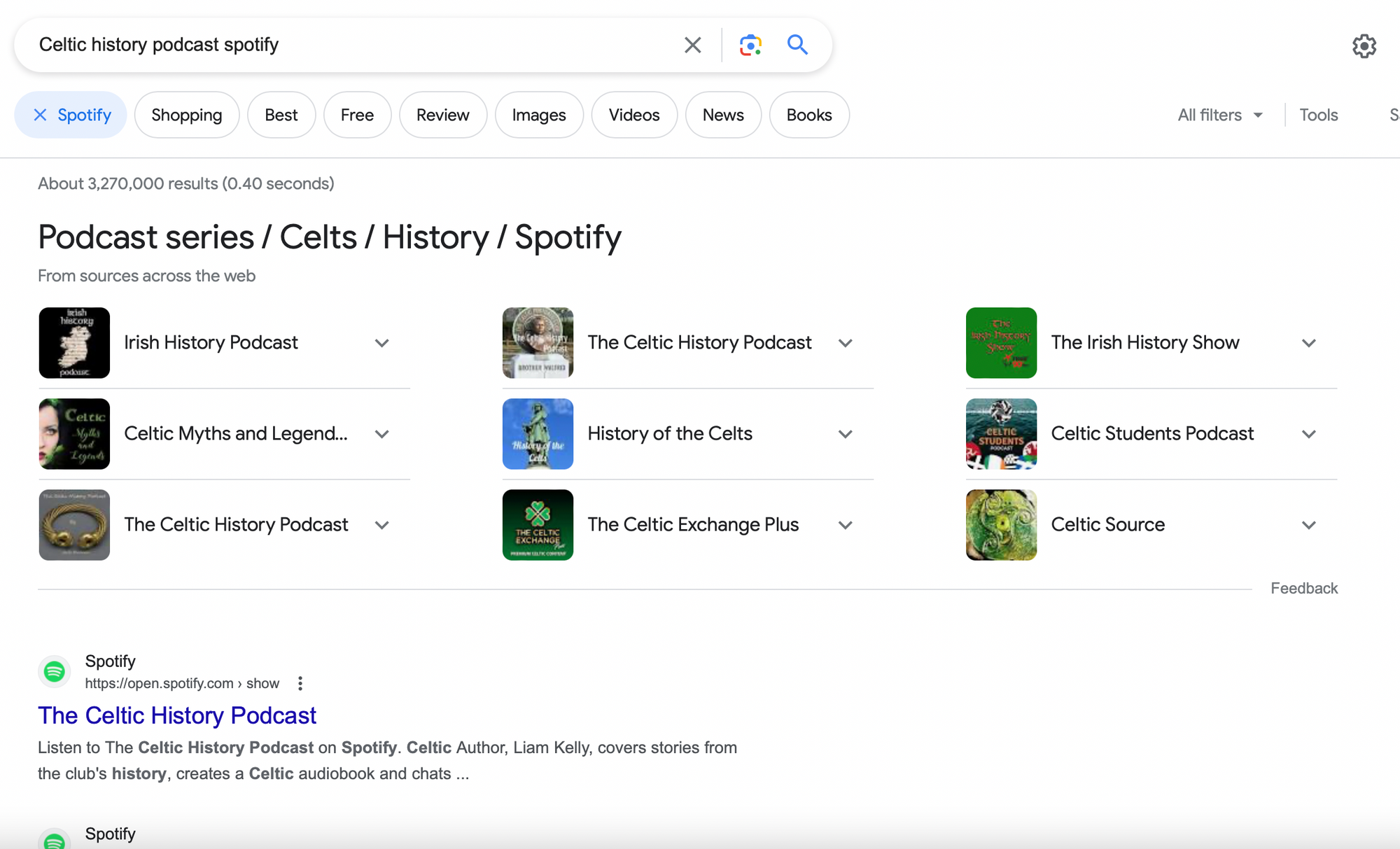 Why your podcast needs SEO
Not convinced enough? Here are a few reasons why you shouldn't neglect SEO for podcasts.
Ranking in podcast directories: Popular podcast directories like Apple Podcasts, Spotify, and Google Podcasts have their own search algorithms. By optimizing your show with relevant keywords and metadata, you increase the likelihood of ranking higher within these directories, which can lead to more organic visibility and discovery.
Backlinks and promotion: SEO efforts can focus on building backlinks to your podcast. When other websites or platforms link back to your show, it signals to search engines that your content is valuable and authoritative. Actively promoting your podcast and engaging with relevant communities can help generate backlinks and increase your podcast's SEO value.
Long-term visibility: Unlike live radio broadcasts, podcasts are typically available indefinitely. This means that optimizing your show for SEO can provide long-term benefits by attracting new listeners over time. By ensuring your podcast is discoverable through search engines, you can continue to grow your audience even after the initial release.
How to optimize a podcast for search
Here are actionable ways to increase your podcast discoverability with SEO.
🔴 Make a podcast website or page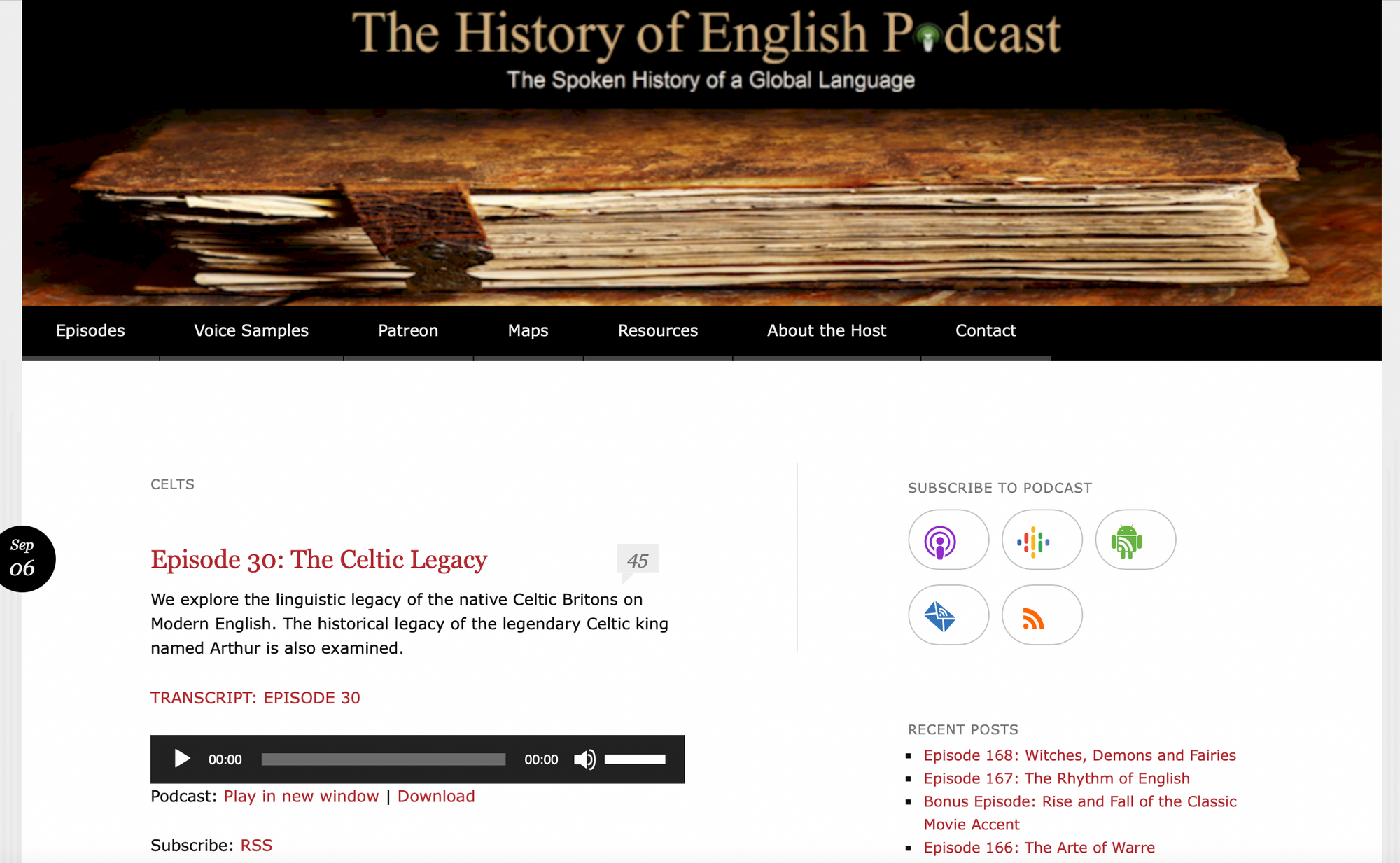 Create a website or page for your show to give your SEO efforts a boost. It shouldn't necessarily be a complex website with multiple pages; instead, this can be a one-page website with a SEO-optimized description of your show, links to a podcast hosting, and podcast episodes transcripts.
With your own website or page, you have more control over the optimization opportunities than you have on your podcast host's page. You can create your own podcast-dedicated website on Wordpress, Wix, Ghost, or another web content management system.
In addition to a podcast title and description, add cover art, email subscription button, social media buttons, and transcripts of your show to the website.
🔴 Build a list of keywords for each podcast episode
When you decide on a topic you're going to talk about, research the topic-related keywords and strategically include them in your podcast script. Build your whole podcast episode around the keywords but keep it conversational.
It's vital to put the keywords in the right places in the written parts of the show. These are the places that are strategically important to put keywords to:
Title of the entire podcast
Title of the podcast episode
Subheadings
URL slug
Image files names
Image ALT texts
Subtitles
All over the webpage written content, put naturally
🔴 Optimize a podcast description
In the podcast description, include a brief summary of your show with keywords that people use when searching for similar podcasts. For keywords research, you can use tools like Ahrefs or Semrush. They can be super insightful, as sometimes it's a proper discovery which words people use when searching. The optimized description is equally important on the website, Spotify, Apple Podcasts, and YouTube.
Before writing an optimized description, identify your target audience and make a list of relevant keywords.
🔴 Repurpose a podcast on Google Podcasts
Repurposing, or syndication of a podcast, means that you simply upload your show episode to a podcast hosting, such as Anchor.fm or Sounder.fm, toggle on a dedicated button or submit the RSS feed URL to Google, and have your show automatically distributed to podcast directory. Thus, you'll make it easier for people to discover your show right on the biggest search engine.
🔴 Optimize show notes
Podcasts show notes are short descriptions that summarize and overview each episode of your podcast. Include your target keywords into these blurbs but use them wisely and naturally. Remember that even though you optimize podcasts to rank in search engines, this content is written for humans, not robots.
🔴 Create podcast episodes transcripts to repurpose them on social media & website
You can use your scripts or entire episode transcripts as a social media post or an article. In terms of organic discoverability, the best ways to publish your podcast as a LinkedIn article, Instagram Reel, Twitter thread, or Facebook post.
🔴 Ask guests to share your podcast
Your podcast interview guest's audience is an additional way to obtain listeners who have not yet discovered your show organically. Ask your guests to share the episode on their channels and invite their followers to listen to and subscribe. You can also turn the podcast episode into a blog article and ask the guest to share it as well.
How to optimize a podcast for YouTube
YouTube is surprisingly popular among people who love listening to podcasts. If you've never thought about video podcasting before, consider it as a sign: turn your audio show into a YouTube video and share it there.
Besides, YouTube is often used as a search engine rather than a simple video sharing platform. That's where SEO comes in if you want your show to be organically discovered on YouTube as well.
To optimize a podcast for YouTube:
Place target keywords into the show's title and descriptions
Use relevant hashtags
Add video chapters
Add relevant keywords in a file name
Create playlists with your podcast episodes
Optimize YouTube video chapters
Chapters show Google the structure of your episode and allow it to analyse what the show is about. They also allow viewers to easily navigate through the video and jump right into the part they're most interested in.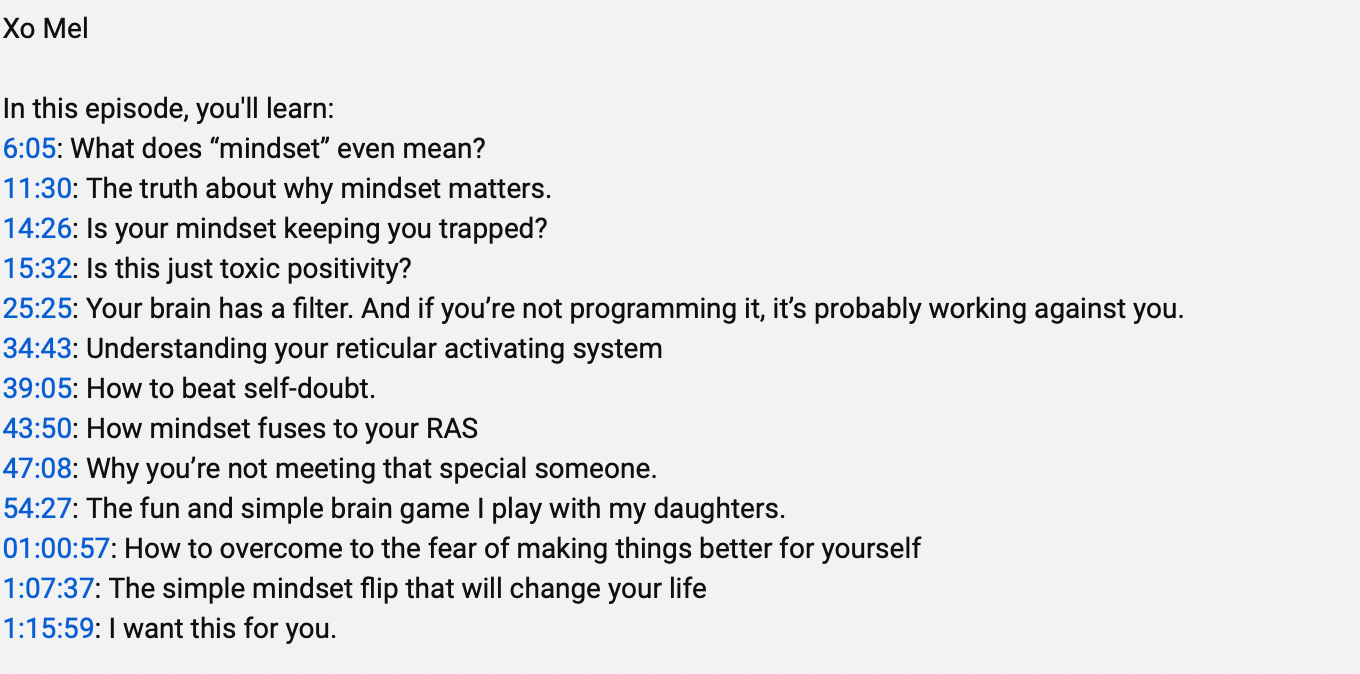 But simply adding these chapters is not enough; you also need to optimize them. How? Add relevant keywords to their titles.
Create & optimize YouTube playlists
If your podcast series covers different topics, organize them in playlists, as YouTube often shows entire playlists in search results, not only single videos or channels.
You can then optimize each playlist by adding a target key phrase to a playlist's name.
How to optimize a podcast for Spotify
If you've read long enough to get to this part, you already know that the important part of the podcast optimization is to add the keywords in the title and description, regardless of the platform. Spotify is not an exception, either.
In fact, Spotify is quite specific with its advice on optimizing your podcast. Here's what this directory recommends to its creators.
Optimize podcast's title & description on Spotify
Create a unique and catchy show title.
In the title, avoid things like common or colliding names, special characters or unique spellings, long titles, generic words, abbreviations, punctuation, misspelt words.
Keep the title 3-4 words long.
Include a keyword that reflects your show.
In the description, include a podcast host's name, topics covered on the show, relevant primary keywords, some secondary keywords, and link your social media accounts.
Keep the description 100 characters long or less.
Limit the episodes' descriptions (show notes) to 3-4 sentences and keep them max. 120 characters long, include keywords and guest's names, logically connect it with the episode title, and avoid spoilers.
Optimize art cover of the podcast
Spotify podcast optimization is not about the written content. To increase the chances of your podcasts discovery, you'll need to think about visuals as well. At the end of the day, there's a percentage of people who click on a podcast judging by its cover.
That's how you should optimize the art cover:
3,000 x 3,000 pixels.
Square image.
High-quality graphics.
Logo or a podcast name on it.
Optimize the podcast page on Spotify
In addition to the art cover, optimize your podcast page.
For that, include these elements in it:
Category tags relating to your podcast content.
Social media links.
Website link.
Your name and podcast title.
Make a podcast trailer & ask for reviews
Two more things to help your podcast stand out on Spotify is a podcast trailer and podcast reviews.
A podcast trailer is a short snippet of a show that gives your listeners a sneak peek into your podcast, highlights the most interesting parts of it, but at the same time, keeps the intrigue. More importantly, a trailer is also a part of the RSS feed. Your Spotify for Podcasters profile and Spotify page place the trailer in a visible spot, and oftentimes, this is the first thing people click before opening the show.
Another thing that'll do good for your podcast discoverability is its rating which builds up from reviews. High ratings and positive feedback from listeners help your podcast rank higher on Google and podcast directories' search results. To get the reviews, ask for them! You can include it in your podcast script to make it sound organically.
---
Don't miss our updates! Follow us on Twitter, Instagram, Facebook, and Reddit.