8 Best Voice Recording Apps in 2023
The curated list of the best voice recording apps for iPhone, Android, and desktop.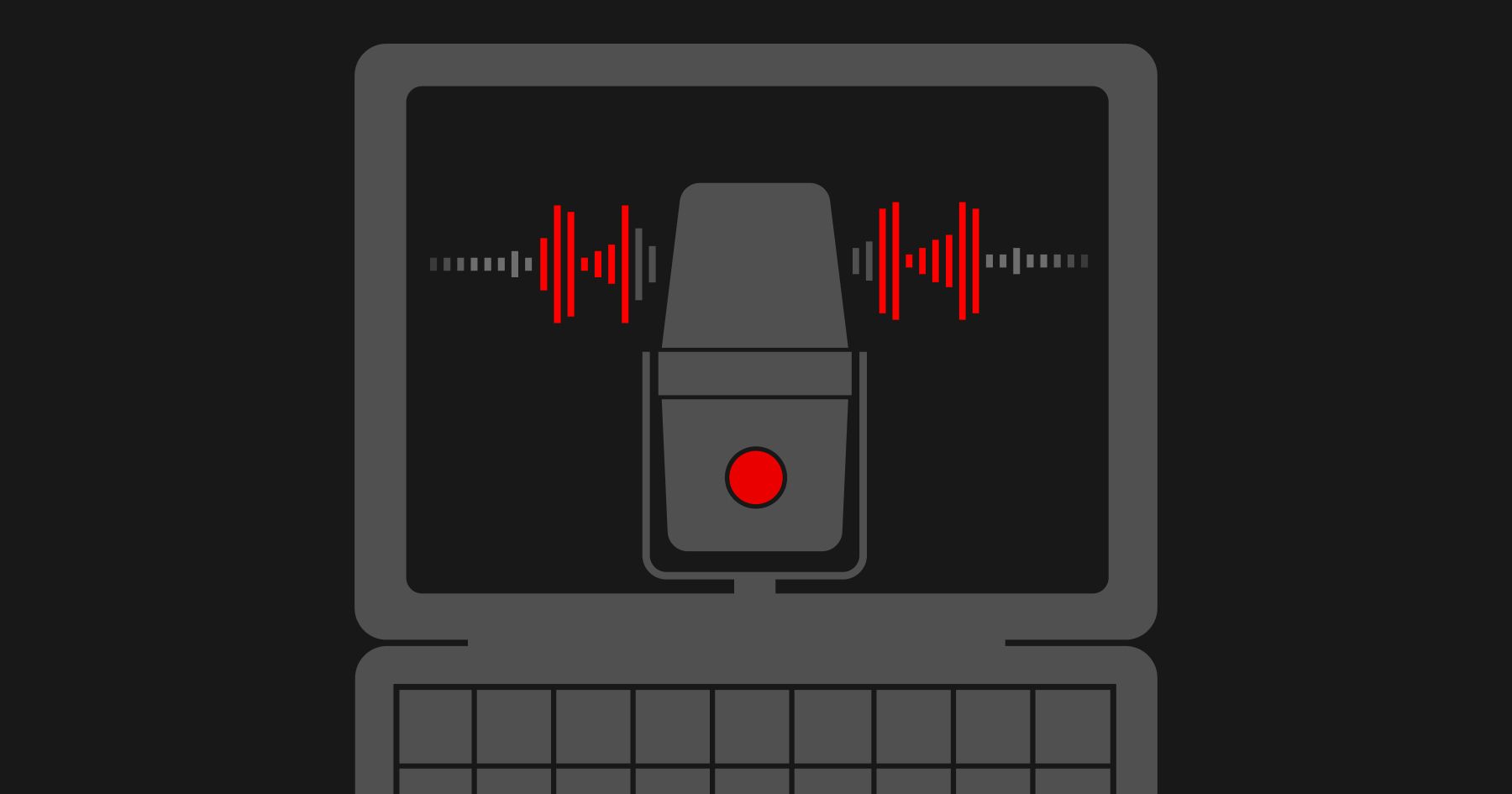 Owing to the content-making and sharing boom, the demand for top-notch voice recording apps has soared. Whether you're a reporter recording interviews, a professional capturing meeting insights, a podcaster making a remote show, or a creative mind jotting down on-the-go inspirations, having the right voice recording app at your fingertips can make all the difference.
Here, we explore a curated list of the best voice recording apps, each designed to meet specific needs and elevate your audio-capturing experience. From intuitive interfaces to advanced editing tools, these apps are poised to transform your device into a portable recording studio.
What is a voice recording app?
A voice recorder app is a software application designed for mobile or desktop devices that allows users to capture and store audio recordings. These apps turn the device into an audio recording station, enabling you to capture spoken words, meetings, interviews, lectures, or any other audio content you wish to save or share.
The primary purpose, of course, is to record audio through the device's built-in microphone. But voice recording tools may have a bunch of additional functionalities:
File management: voice recording apps often provide features for organising and managing recorded audio files so that you can name, categorise, and timestamp recordings.
Playback: You can play back your recorded audio to review or share with others.
Editing tools: Some voice recorder apps offer basic editing features, allowing you to trim, cut, or enhance your recordings.
File export: You can export recordings in various formats (such as MP3, WAV, or others) and share them through email, messaging apps, or cloud storage.
Background recording: This feature enables users to continue recording even when the app is running in the background or when the device is locked.
Widget support: Quick access to recording functions through home screen widgets for efficiency.
Cloud integration: Some apps allow users to sync their recordings with cloud services for backup or access from multiple devices.
8 best voice recording apps for iPhone, Android, and desktop
Now let's get straight to our top picks.
Waveroom
Waveroom is a desktop recording solution that allows you to capture audio and video right in your browser. Initially designed for podcasting and interviewing, Waveroom provides a top-notch sound quality due to local recording.
💡
Local recording means that the recording is saved on the device that is doing the recording, thus providing high sound quality even if the Internet connection drops.
With Waveroom, you can record your own voice or capture interviews with up to four guests, save uncompressed audio files in 48 kHz WAV, remove background noise from a recording, and more.  
The interface of the tool is super easy to use, so you will be able to master it intuitively.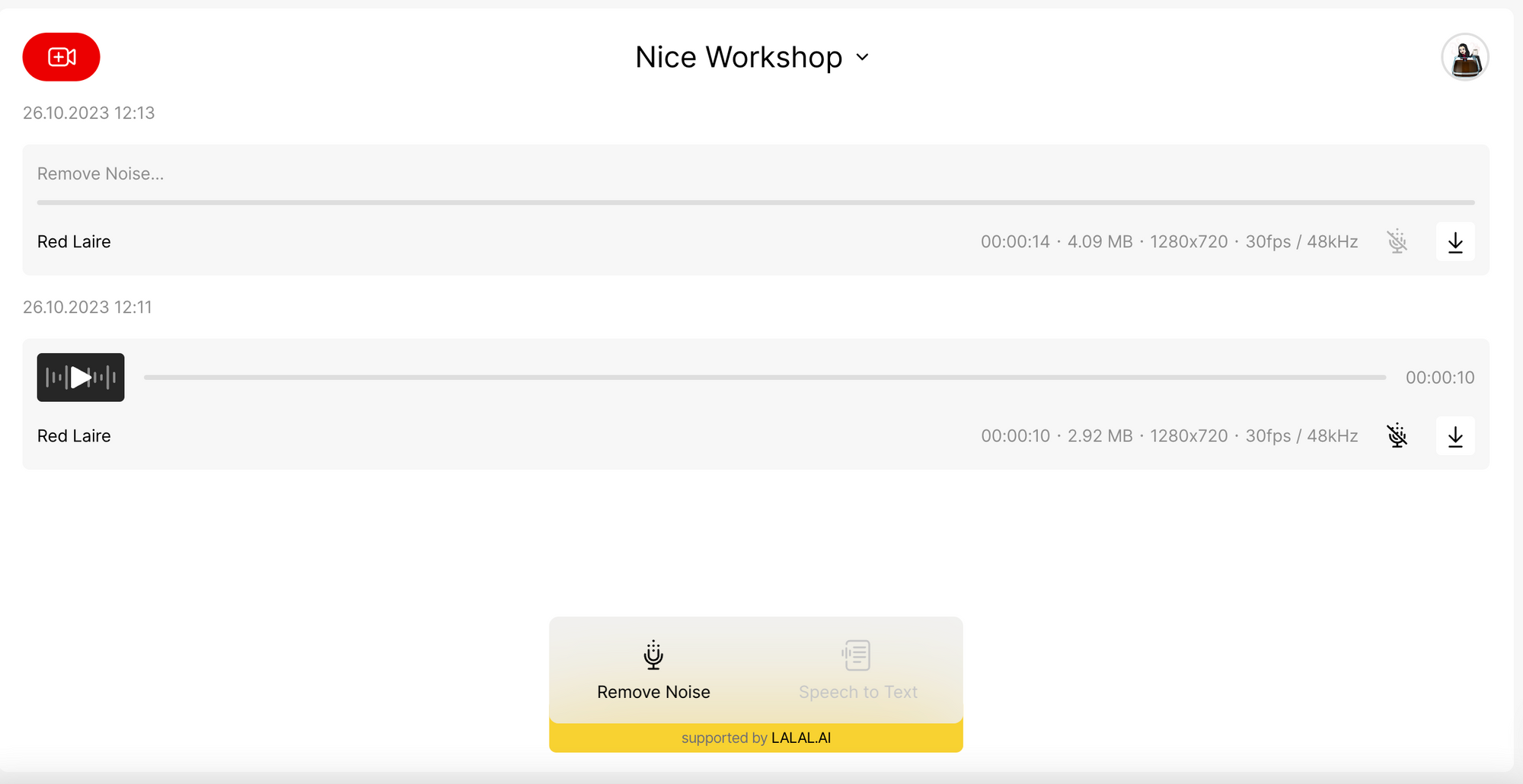 If you want to capture a video, too, you can easily do that with Waveroom, as it provides a 1080p quality and MP4 export.
Your files will be stored on Waveroom's servers for a year.
Voice Memos (iOS & macOS)
Voice Memos is a built-in audio recording app that comes pre-installed on Apple devices, such as iPhones, iPads, and Mac computers. The app allows users to easily record audio using the device's built-in microphone. Voice Memos is commonly used for capturing spoken notes, interviews, lectures, or any other audio content users may want to save or share.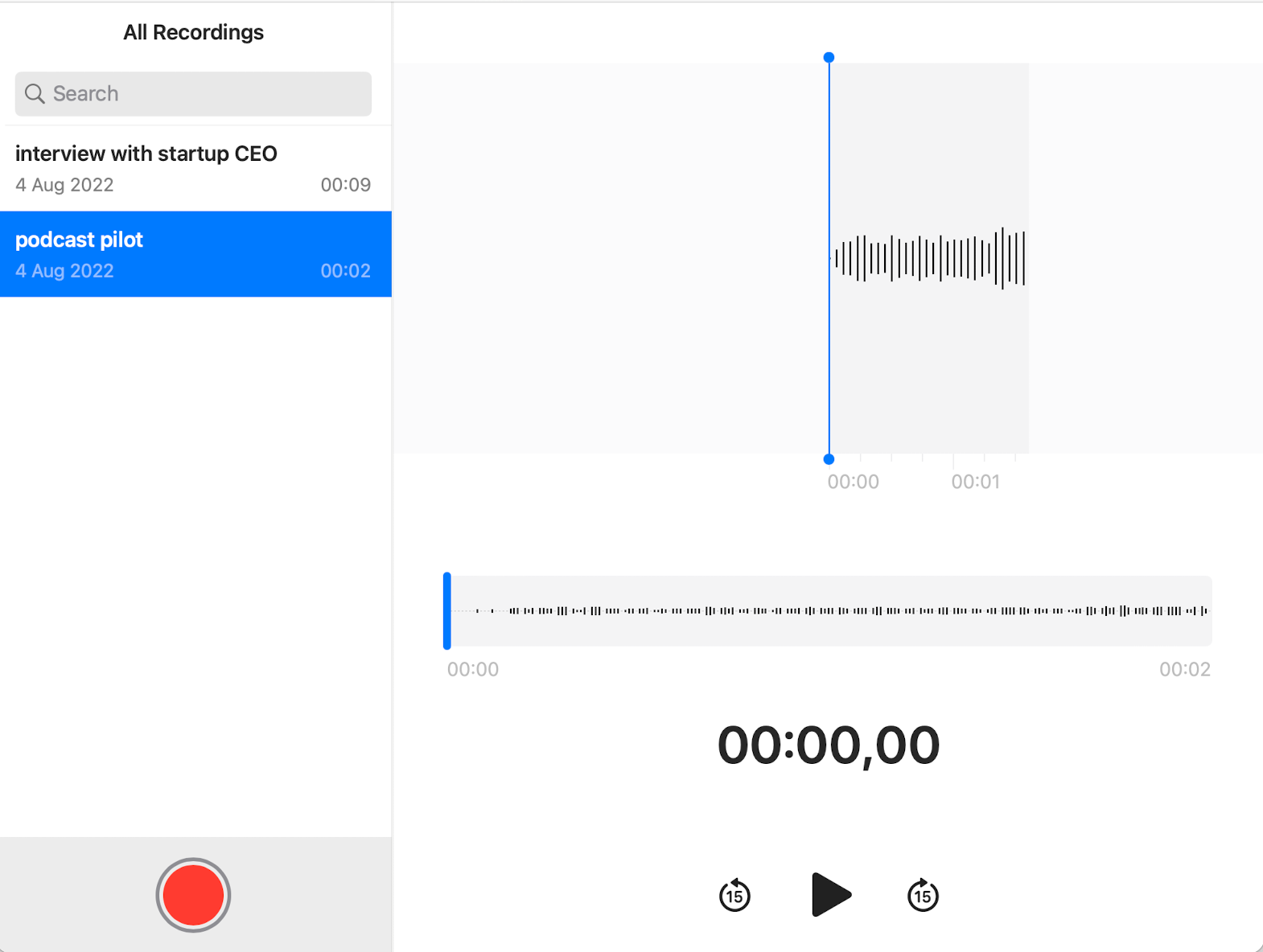 Voice Memos has a straightforward and user-friendly interface, making it easy for you to start, stop, and manage their audio recordings. The app also provides basic editing functionalities, such as trimming the beginning or end of a recording. This can be useful for removing unnecessary portions of the audio.
What is super important (in our opinion) is that Voice Memos integrates with iCloud, allowing you to sync their recordings across multiple Apple devices. This ensures that recordings are accessible from iPhones, iPads, and Mac computers associated with the same iCloud account.
You can share their voice memos through various methods, including email, messaging apps, and other third-party applications.
Easy Voice Recorder (Android)
Easy Voice Recorder is an audio recording app available for Android devices. It's designed to be a user-friendly and straightforward tool for capturing audio on the go. It has an easy-to-use interface, making it accessible for users who want a no-frills recording experience.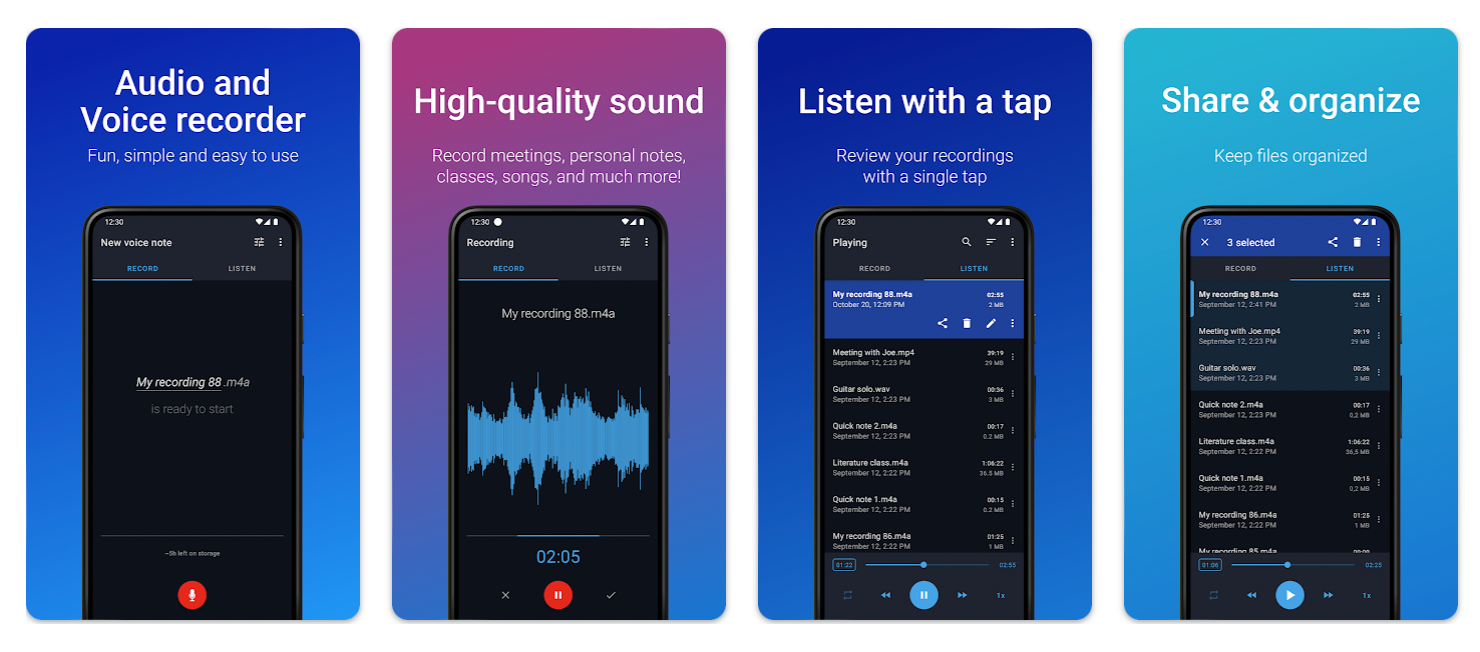 The app supports multiple audio formats, including PCM and AAC, allowing users to choose the format that best suits their needs. You can adjust the quality settings for your recordings, offering flexibility in balancing file size and audio quality.
Need more control? The app supports background recording, allowing you to continue capturing audio even when the app is not in the foreground or when the device is locked.
You can organise and manage your recordings within the app by changing the files' names and categorising recordings.
What's more, Easy Voice Recorder allows users to share their recordings via email, messaging apps, or other third-party applications.
Smart Voice Recorder (iOS and macOS)
Smart Voice Recorder is an audio recording app available for Apple devices that provides users with a straightforward and efficient tool for capturing audio.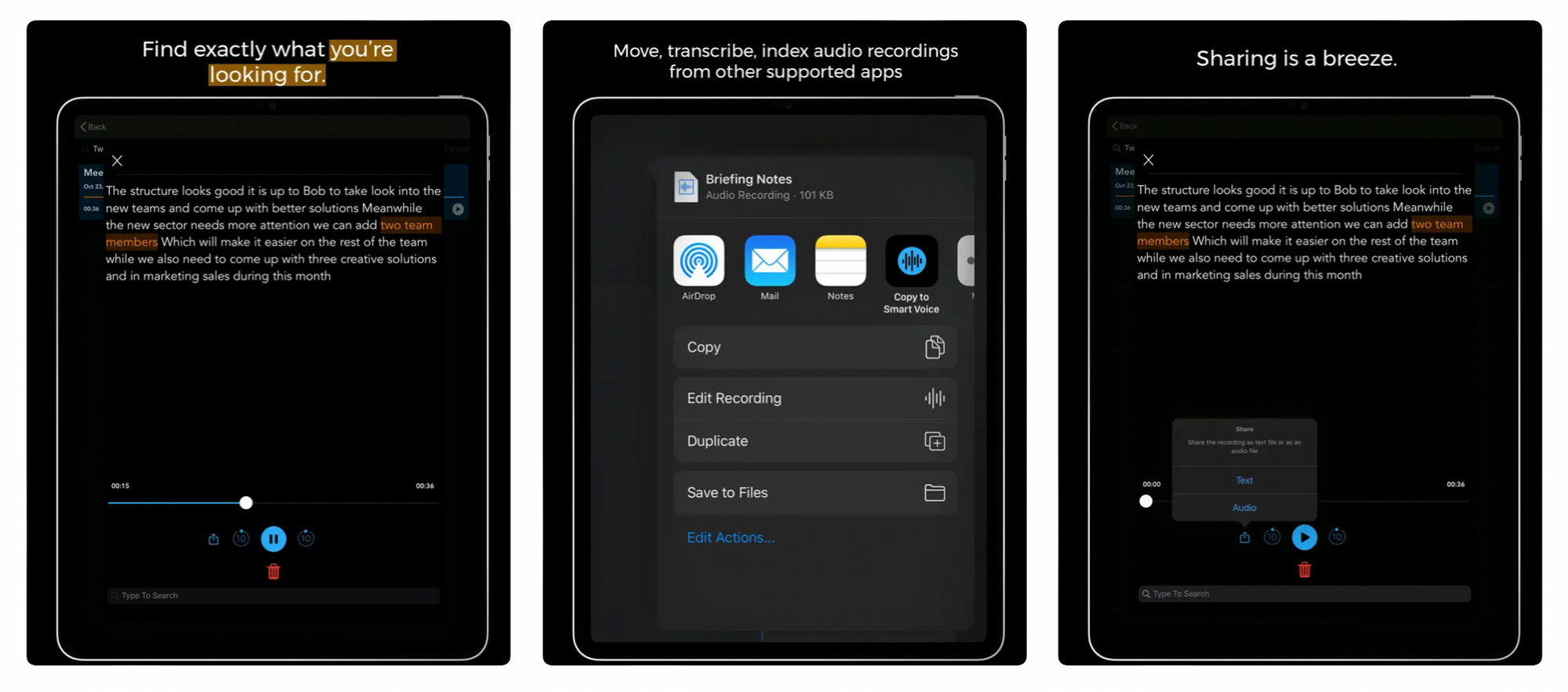 The app provides live transcription, allowing you to search through your recordings and effortlessly navigate to specific timestamps with a simple tap. Importantly, these capabilities are accessible even when offline, saving both time and money. With support for 15 languages, Smart Voice Recorder caters to diverse user needs.
It's important to note that transcription accuracy may vary due to factors such as speaker differences, recording environments, and device variations. Smart Voice emphasises that even when connected to the internet, most processing occurs on the device itself.
You can also seamlessly synchronise your data with Dropbox.
The free version of Smart Voice has a recording limit of 4 minutes. For unlimited recordings, background recording, and other advanced features, users can opt for the in-app subscription, Smart Voice Pro. The Pro version eliminates time restrictions and allows for importing audio from other supported recording apps.
AudioShare (iOS)
AudioShare is an app designed for iOS devices, and it's primarily focused on audio file management and sharing. It provides tools for recording, editing, and organising audio files, making it useful for musicians, sound designers, podcasters, and anyone working with audio content on their iOS devices.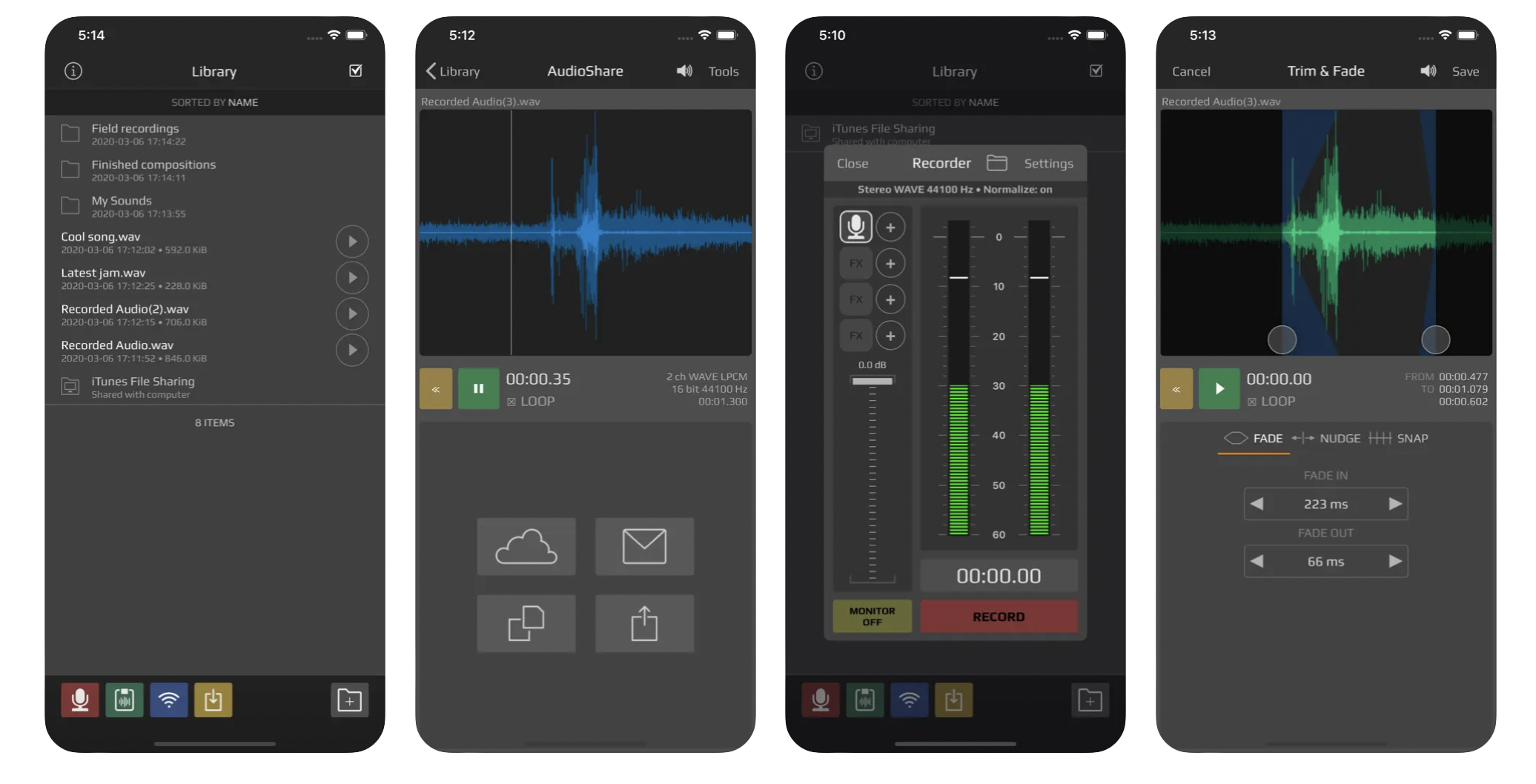 AudioShare offers robust file management capabilities, allowing you to organise your audio files efficiently—you can create folders, rename files, and manage your audio content easily. You can also trim, cut, copy, and paste sections of audio recordings within the app.
The app supports various audio file formats, including WAV, AIFF, FLAC, MP3; you can import audio files from other apps or external sources and export your recordings to various destinations, including cloud services, other apps, or email.
AudioShare provides options for sharing audio files with other apps, making it a versatile tool for those who want to integrate their audio workflow with different applications.
The app is designed to work seamlessly with other music and audio apps on iOS, allowing users to easily transfer audio files between apps.
Otter.ai (iOS, Android)
Otter.ai is an AI-powered voice recorder as well as a transcription and collaboration tool. Otter.ai is particularly useful in various scenarios such as meetings, interviews, lectures, and more, as it provides real-time transcription, meaning it can transcribe spoken words into text as they are being spoken.
The app supports collaboration, allowing multiple users to access and edit transcripts simultaneously, which makes it useful for teams or groups working on shared projects.
If you need to transcribe pre-recorded content, import audio files into Otter.ai for transcription. Beyond transcription, Otter.ai can be used as a note-taking tool— you can highlight key points, add comments, and organise information within the app.
RecForge II (Android)
RecForge II is an audio recorder app available for Android devices. It is designed to provide users with a range of features for recording and editing audio.
RecForge II supports various audio formats, including MP3, OGG, WAV, and FLAC, so you can choose the format that best suits your preferences and needs.
The app includes editing tools for audio files, allowing users to cut, trim, paste, and apply various effects to their recordings. Beyond that, RecForge II supports real-time monitoring, enabling users to listen to the audio being recorded as it happens.
The app offers customisable recording settings, allowing you to adjust parameters such as sample rate, bit rate, and more according to your preferences.
RecForge II includes features like automatic gain control, which helps maintain consistent recording levels, and silence skip, which automatically skips silent parts during recording.
The app also supports background recording, so you can continue capturing audio even when the app is not in the foreground or when the device is locked.
Dolby On (iOS, Android)
Dolby On is a mobile app designed to enhance and optimise audio recordings on smartphones. It's developed by Dolby Laboratories, the same company known for its contributions to audio technology, including Dolby Atmos for cinema and home theater systems. It applies real-time audio processing to improve clarity, reduce background noise, and provide a more immersive listening experience.
The app allows users to instantly share their audio recordings on various social media platforms or through messaging apps.
While primarily designed for audio recording, Dolby On also supports video recording with enhanced audio. You can use Dolby On for live-streaming audio, making it suitable for musicians, podcasters, and other content creators who want to improve the audio quality of their live broadcasts.
Dolby On includes features for applying different soundscapes and effects to recordings, allowing users to experiment with creative audio enhancements.
Best voice recorder apps: Wrapping up
The choice of your perfect helping tool depends on your needs and how you're going to capture your or your guests' voices. If you're recording in the comfort of your studio or home, a desktop solution like Waveroom would be the perfect choice. But if you record on the go, opt for handy solutions for mobile.
And to optimise your recording setup, check our guide on the best recording equipment for any budget.